Josh Fairhurst from Limited Run Games took to Twitter last week to share news of the "phenomenal" sales numbers his company is experiencing with pre-orders of their 1st published Switch title; Thimbleweed Park.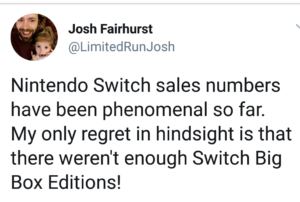 Josh also revealed that if the upcoming Switch version of Saturday Morning RPG sells as well as Thimbleweed Park, his company will be able to fund a sequel based on physical sales alone.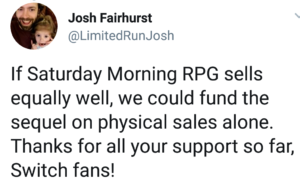 This is a very different scenario than what Josh was anticipating when we interviewed him just 3 weeks ago. At that time, he assumed a combination of digital and physical sales would be required to make SMRPG 2 a reality. Of course, this conclusion came pre-Thimbleweed Park, when he was planning for only 5000-6000 physical copies to be made.
"Final numbers aren't set, but we'll be around 5,000 – 6,000 units split between Standard and Collector's Editions, most likely.

If we can sell out of the physical release and move 20,000 units digitally, a sequel will definitely be in the cards. Fingers crossed!
Whichever way the company ends up achieving their goal, it appears a SMRPG sequel is more likely than ever before.
Another positive side effect of Thimbleweed Park's popularity is that it's setting a precedence for future LRG published Switch titles to be sold via a pre-order system.
Not only has doing so allowed the LRG team better determine demand, which has already surpassed their original plan by 50%, it's been well received by customers who'd rather purchase at their leisure than in a hurried attempt within the constraints of a very limited time window.
Although we don't know for certain that all future Switch titles will be sold this way, Mr. Fairhurst/LRG confirmed in a response to a customer on Twitter (not shown) that pre-sales are happening for SMRPG, starting May 28th. Josh also divulged a digital release of the game will become available for North America, South America, Australia, and Europe on April 23rd , barring any unforeseen issues.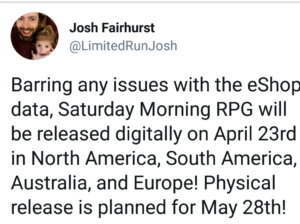 Besides Switch news, Mr. Fairhurst teased that he's looking into the possibility of publishing games for the PS3.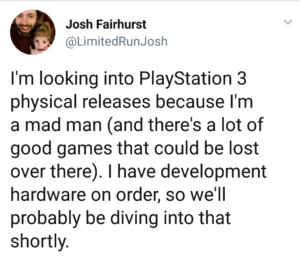 His main goal, as always, is to ensure that outstanding digital only PS3 games receive a much-deserved physical copy, for the purposes of preservation.
Although it's too early to know if PS3 games will become a significant part of LRG's business model, Josh does seem determined to give it a valid try. He's already invested in development hardware for the platform (see above picture) and even chosen a game to experiment with, the choice of which, was inspired by his wife (see below).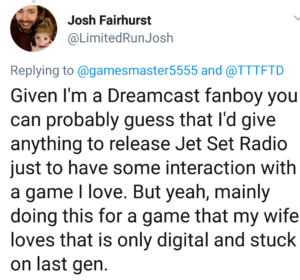 Overall, the future at Limited Run Games is looking bright. And, we, as fans, couldn't be happier. After all, as long as LRG is in business, collectors (like us) continue to have the opportunity to add physical copies of terrific games to their shelves.
If you'd like to pre-order a copy of Thimbleweed Park, you can do so through the Limited Run Games website. Pre-sales will close on 4/13.
To learn more about the upcoming Saturday Morning RPG Switch release & its sequel, check out our recent Spotlight Interview with Josh Fairhurst.
Source: Limited Run Games/ Josh Fairhurst