After teasing fans for weeks, Limited Run Games finally announced that the honor of Switch title #001 will go to Thimbleweed Park, a point and click, comedy, noire, mystery adventure, developed by Terrible Toybox, creators of Maniac Mansion and Monkey Island.
Thimbleweed Park was originally revealed in 2014 as part of a Kickstarter crowdfunding campaign. Since its official release last year, the game has garnered high praise from fans and critics alike.
LRG will be releasing Thimbleweed Park on March 30th, the game's 1-year anniversary. A Standard and Collector edition will be available.
The Standard Edition will include a full-color manual and interior print.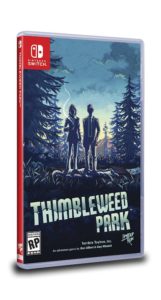 The collectible "Big Box" edition will contain the following:
– Physical game
– Full-color manual
– Newspaper
– Full-color interior print on the cover sheet
– Post-It-Notes
– Foldable menu poster
– Nintendo Switch exclusive stickers
– Nintendo Switch exclusive phonebook
– Classic LucasArts style "big box"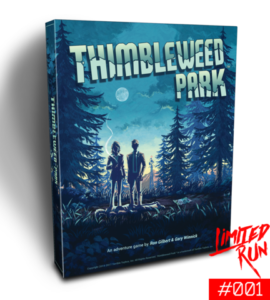 Since this is the first game LRG will be releasing for the Switch, they've decided to forgo the usual release day procedure and conduct pre-orders for the Standard Edition (not Collector edition). This means fans won't have to scramble to their computers or phones at 10am or 6pm to fight it out on-line for a Standard copy of the game.
No word yet on exactly how long that pre-order window will be open. And, there's no guarantee that customers will be allowed to pre-order future Switch titles. This is simply a test for LRG to "gauge demand" on this new platform.
The game will also be releasing on the same day for the PS4. The PS4 versions (and Switch collector edition) will be sold, like usual, at 10am and 6pm in limited amounts.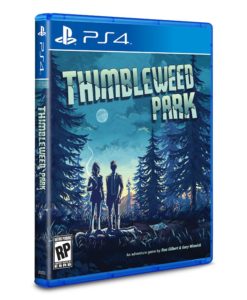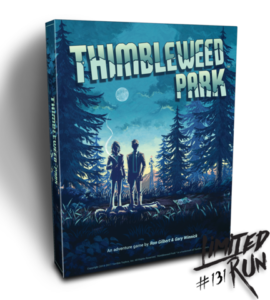 If you're a fan of Thimbleweed Park or just looking for some cool TP swag to add to your order, LRG will have 4 different items, courtesy of Fangamer, which will release on the same day as the game.
Trading Cards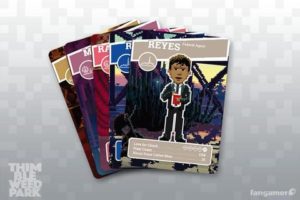 Vinyl Soundtrack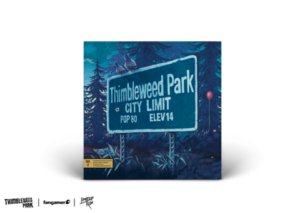 Magnet Set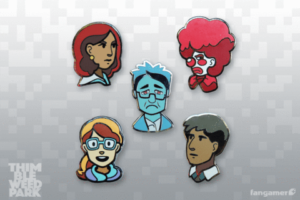 Art Book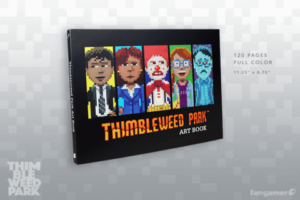 This is an exciting time for LRG as they enter into the big, wonderful world of publishing for the Nintendo Switch. We look forward to purchasing this and many more titles on this terrific new console.
If you'd like to see a Trailer for the game, you can find it on the official Thimbleweed Park website.
Update: Pre-Orders are open now and will close at 11:59pmEST on 4/13.
Source: Limited Run Games, Thimbleweed Park