Limited Run Games left customers in shock and awe on Friday when they revealed that their "mystery" PS4 release was Jak & Daxter: The Precursor Legacy. To add even more to the surprise, was the announcement that their collaboration with developer Naughty Dog includes physical PS4 releases of the other 3 titles in the hugely popular series.
Although exact release dates for the rest of the series haven't yet been disclosed, LRG is planning for all 3 to be out by next June.
Those who purchase all 4 titles will be rewarded with a mock Jak 4 game case which will include the code for a unique Jak 4 PS4 theme. (Note: A Jak 4 game was never actually released).
LRG co-owner Josh Fairhurst promises that the remaining titles; Jak II, Jak 3, and Jak X: Combat Racing will receive a Collector edition like the first game released on Friday. Although specifics of what will be inside haven't yet been revealed, Mr. Fairhurst has stated that each will come with a special item that ties to that specific game's history as well as a hardback foil-stamped book that contains images from Naughty Dog's original production binders.
Judging by a picture LRG tweeted out last week, it appears that all of the limited editions will come packaged in matching boxes, which should make for a nice-looking display when they're stacked beside each other on a shelf.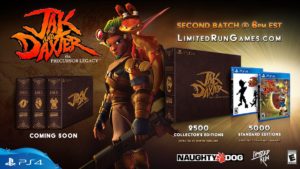 If you missed out on the release of the 1st game on Friday, unfortunately, it is now sold out. You can, however, give yourself a chance to still add it to your collection by signing up for the game's waitlist. (You may also want to keep a watch on the LRG site during their end of the year sale on New Year's eve/day, when "extras" of certain games will be for sale in very limited quantities).
That's all we know for now. More details to come.
Sources: Limited Run Games, Naughty Dog