Limited Run Games is publishing the coming of age, supernatural thriller, Oxenfree, for the Nintendo Switch. Pre-orders for the Night School Studio game about "a group of friends who unwittingly open a ghostly rift," will go live on Friday, August 3rd,  at 10am EST on limitedrungames.com.
The physical edition will feature foil cover artwork, a beautiful foil interior print, and a full-color manual. Like usual, the pre-orders will be open for 2 weeks.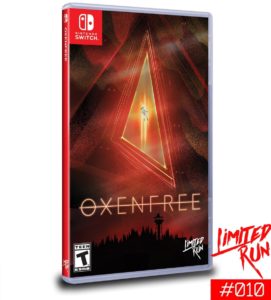 Oxenfree will retail for $34.99. Orders are expected to ship out late October. A collector edition has not been announced.
Not familiar with the game? Read more about it & see a game trailer on the developer's website.
Oxenfree is currently available, digitally, on the PlayStation & Microsoft Stores, Steam, and GOG.com.
Source: Limited Run Games