The next Switch release for Limited Run Games will be PixelJunk Monsters 2. Pre-orders for the Standard and Collector editions will go live on the company's website on Friday, May 18th.
The standard edition will be part of the 2-week pre-order window which will last from 10am EST on 5/18 through 11:59pm EST on 6/1.
The collector edition will be part of the usual 10am and 6pm release times, with only 2500 copies available.
Here's a look at what'll be included.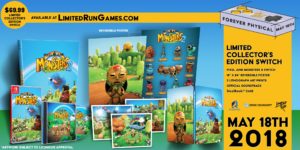 The game will also release this Friday for the PS4 & PC. All physical copies from Limited Run Games will contain the game's complete DLC.
PixelJunk Monsters 2 will become available digitally for all 3 aforementioned platforms on May 25th.
For more information, visit the Limited Run Games website. 
Source: Limited Run Games