The Monster Hunter: World USA Championship will take place on July 28th in San Francisco, California. Register now to compete or simply attend as a spectator.
Anyone who participates in the competition will be charged a fee of $20. Those spectating, will be able to attend for free. Tickets are being given out on a first come, first served basis.
The championship will comprise of a series of time attack challenges where teams of two players will work to complete specific Challenge Quests in the fastest time possible.
There will be 2 rounds:
– Qualifying Round (Arena Quest 01)- Top 8 teams with the fastest times will move to the finals
– Final Round (Nergigante Slay Event 4) – The fastest team of the final 8 teams wins
Prizes will include:
Grand Prize


Participation Prize


Those who attend the USA Championship will have opportunity to nab a Monster Hunter: World lanyard, go hands-on with The New World Challenge, see rare in-game art on display, and participate in a photo op.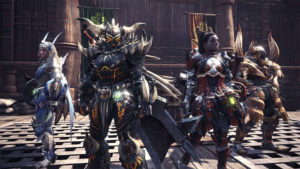 Cool merchandise will also be raffled off during the event and a few attendees will be selected to take part in meet & greet with the MHW team.
Registration for the MHW USA Championsip will close on July 18th (or when tickets are sold out). Purchase tickets through the official website. (UPDATE: AS of 7/20, Tickets are still available).
Source: Capcom