As Horizon Zero Dawn closes in on its 1st year anniversary, developer Guerrilla Games is celebrating more than just the game's birthday. They're reveling in the news that their creation has sold 7.6 million copies worldwide, achieving the status of the best-selling, new, 1st party franchise launch on the PS4 System.
To commemorate this auspicious occasion, Guerrilla Games, the PlayStation Store, and others are offering fans (and potential fans) some terrific deals.
PlayStation Store
If you haven't yet bought/ played the HZD game, now is your chance to do so. The PlayStation Store is offering a 30% (35% for PS Plus members) savings on a digital copy of HZD: Complete Edition, now through March 6th.
The PS Store is also offering a free bundle of HZD avatars and a HZD PS4 theme.
Horizon Zero Dawn Clothing 
InsertCoinClothing.com , which ships worldwide, has some really cool shirts for 20% off. Use the code "NORA20." But, do hurry, because the sale may end today, 3/2 (or soon after). 
The U.K. PlayStation Gear Store has several HZD clothing pieces and collectibles, including a Soundtrack Box Set on sale for around 25-40% off. (These do not ship to the U.S.).
Figures 
The North America PlayStation Gear Store has 3 HZD POP Vinyl figures on sale.
The NA PlayStation Gear Store is also carrying a ThinkGeek/GameStop exclusive, 10 1/2″ tall (including base), PVC Aloy statue on their site for 25% off. This figure is #2 in the Modern Icons collection and will be on sale, throughout the month of March or while supplies last. To receive the discount, use the code 'anniversary' when checking out.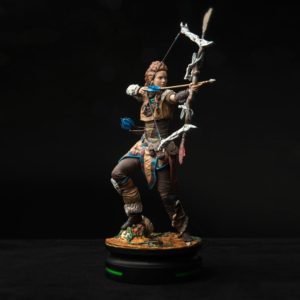 The above statue can be found at ThinkGeek.com as well, listed at the 25% off price. The site is also offering a 6″ Aloy Plushie for $8.99.
Sources: Guerrilla Games, PlayStation Store, Playstation Blog, ThinkGeek, InsterCoinClothing