The countdown for Mewtwo as an EX Raid Boss is on, with Pokémon Go experts on social media predicting Deoxys will be his replacement in the very near future. If you're still needing to add this big guy to your Pokédex, here's some tips to help.
Defeating
Mewtwo has a lot of possible movesets, but the only one which can complicate the battle is Focus Blast. You'll know this is the move of the Mewtwo you're about to fight if the game's suggested raid party includes Dragonite, Rayquaza, and/or Gardevoir.
To go against Focus Blast, I suggest the following:
Gengar with Focus Blast
Rayquaza with Dragon Tail/Outrage
Salamence with Dragon Tail/Draco Meteor
Dragonite with either Dragon Tail/Draco Meteor OR Dragon Tail/Outrage
For a non-Focus Blast Mewtwo, I suggest:
Tyranitar with Bite/Crunch OR Bite/Stone Edge
Houndoom with Snarl/Foul Play OR Snarl/Crunch
Dragonite with Dragon Tail/Outrage
Rayquaza with Dragon Tail/Outrage
If you and your fellow PGoers have the above counters powered up to at least 5000 Stardust, then you'll be able to beat Mewtwo with 4-5 Trainers. If not, you'll need a few more.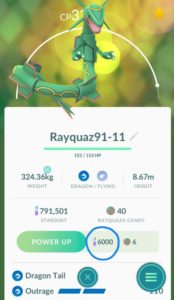 Before taking on Mewtwo at an EX Raid, it's a good idea to go ahead and set-up your team(s) of Pokémon counters. If you've never created your own groups before, check out our article on how to do it. (It's near the end of the article).
Capturing
Usually Legendary Pokémon have a 2% catch rate, however, Mewtwo has a base rate of 6%. If you use a Golden Razz Berry and throw a curveball, you increase your chances to 28% per ball.
As with any Legendary, timing on your throw is very important. If you've never encountered Mewtwo before, it's probably a good idea to take a minute or two and observe how he moves. Unlike other Raid Bosses, Mewtwo has an extremely long attack animation. The perfect time to throw your ball is when you see his right hand drop to his side.
Another way to increase your chances of a capture is to divide up into groups based on team (if possible) before taking him on in the gym. Doing this will maximize your ball count which gives you a little more breathing room when throwing.
Finding an EX Raid
Unfortunately not all areas have EX Raid gyms. If you live in a rural town like our group in Wilkes County, NC, you may have to travel somewhere else to find a designated EX Raid gym to have a shot at a Mewtwo. If so, all you usually have to do is participate in at least one Gym Raid, of any level (Tier 1-5), at that locale and you should receive an invite the next time they're sent out. It's not a guarantee, but it usually works.
If you have questions about how an EX Raid works, head over to our article regarding the process, here. (NOTE: A few things have changed since the article was written, but it'll give you the gist).
For anyone who lives in or around the Wilkes County, NC area, these are gyms we've discovered that usually produce an EX Raid. (If you know about more we can add to our list, feel free to let us know in the comment section below).
Winston-Salem:
Thruway Shopping Center – Starbucks, Sprint Store
Boone:
ASU Campus – Staff Centennial
Sources: Niantic, Wilkes County Discord Group