With the 3DS & Nintendo Switch versions of Captain Toad: Treasure Tracker just a few days away from release, we thought it'd be a good time to revisit our review of the game from when we played it on the Wii U.
Although the newest version will bring some fun additions such as co-op play and 4 courses from Super Mario Odyssey, the heart of the game, storyline, and majority of levels should be the same.
For those of you who may be trying to decide whether or not this game is for you, we hope a look at our experiences will assist you in your decision making.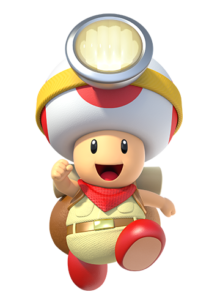 Synopsis:
Captain Toad: Treasure Tracker is an exciting new type of platform game for the Wii U. Instead of Mario being the hero, this time it's our mild mannered friend with the high-pitched voice, Toad. He's got his backpack and miner's headlamp and is ready to go on a quest for gold and jewels.
Gameplay:
The main levels of the game were inspired by the Captain Toad levels found in Super Mario 3D Land on the Wii U. Just like the game that inspired it, Treasure Tracker allows the player to traverse isometric 3D levels and use the camera to see different viewpoints of each area's terrain. The big, colorful 3D world can be seen from any side or overhead.
You can have a look around by using the gyroscope controls, twisting and turning the GamePad or by simply maneuvering the right control stick.
Unlike Mario, Toad does not have the ability to jump. He uses stairs, ladders, elevators, moveable platforms, and levers to get from one tier of the multi-layered levels to the next.
Each level has its own unique look, feel, puzzle solving elements, and bonus side quests to complete. Some have enemies and some do not. Your main objective in each area is to find the three jewels and reach the star. There is no timer, so you can take as long as needed to complete the tasks.

After you've completed your main assignment, you'll be able to view a side quest with unique criteria specific to that level. There's a wide variety of quests to be had, including finding the 1UP mushroom, sneaking through a level without being seen by the Shy Guy enemies, completing an area without taking damage, collecting a certain amount of gold coins, and much more. The quests make for a great challenge and an excuse to go back and play through each level a 2nd time.

Like in Super Mario Bros. 2, Toad can pull flowers out of the ground to find hidden objects such as coins, turnips, mushrooms, and super pickaxes. Some of the flowers will produce up to 10 coins, with continuous pulling action. But, you have to be fast to get all 10.
The pickaxes destroy brick blocks while the turnips can be used to pummel enemies. You can also catapult turnips at POW blocks to take down a wall. One thing to note is that you can't climb with a turnip in hand, but you can fall down with one from a higher level to a lower one. You can also fall on an enemy from up above. As with most Mario games, you earn an extra life with every 100 coins or 1UP mushroom you collect.
When it comes to enemies, it's important to be aware of them at all times. The first hit shrinks Toad and the second one takes him out. You can combat the first hit and return to normal size by locating a hidden red mushroom in an area.
We discovered a couple of fun tricks to breaking blocks and dealing with the enemy while playing the game. Some blocks, which release coins, can be broken by touching the block itself on the Wii U GamePad.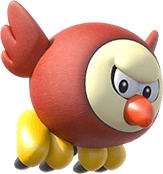 Other blocks will require help from your enemy, a dive-bombing bird that flies overhead. Once you've led him to the block you need him to dive into, make sure to get out of his way, so he doesn't land on you instead. If you need to temporarily stop an enemy's motion, you can do so by touching that enemy on the gamepad with your stylus. If you tap on him repeatedly, he'll give up a gold coin.
Level Highlights
The story starts off with Toad being greeted by Toadette who's immediately kidnapped by a huge bird named Wingo.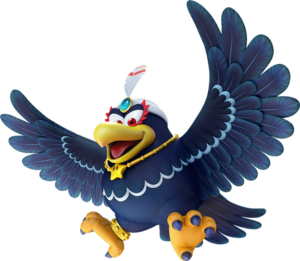 The first level is then revealed as if you're starting the first page of a novel. The novel is broken into 3 Big episodes, with 18 chapters (or levels) in each of the first two, and 28 in the third. There's a wonderful variation amongst the many levels and a coin dash added in as a bonus every so often.
Players are drawn into the game from the very start. The first area, called "Plucky Pass Beginnings" is a bright, cheerful, outdoor environment that contains the familiar Shy Guy enemies and a few lazy Toads lying under a tree, trying to coerce you to join them for a nap.
At level 10, you run into your first boss fight. It's a really cute and fun one too. You go against a large, colorful lava-dragon named Draggadon.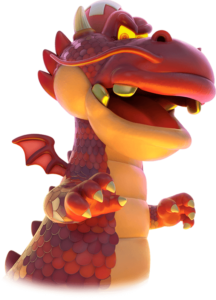 You're not literally fighting him, but rather avoiding his big breaths of pink smoke while making it through the usual course objectives.
Players go against Wingo for the 1st time in Level 18. He flies onto the scene, Toadette in tow, and the gold star hanging around his neck. He tries to blow you off his tower as you attempt to find the hidden jewels and make your way to the top. Once you've reached the peak, you pummel him with turnips. Three hits and he's done.
In case you're wondering, you do get to play as Toadette.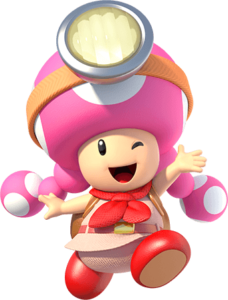 She's your character through Episode 2 after Toad gets captured. When you make your way through Episode 3, you'll have an equal chance to play as both Toad and Toadette, usually switching from one to the other every 4 levels or so.
Overall, the level designs are quite innovative. As you work your way through Episodes 2 and 3, you may, at times, find a few areas that feel familiar to ones you've played previously. But, don't let that discourage you because each will be more complex, extensive, and harder to beat than what's come before.
One of the standout levels is "Double Cherry Palace."  It's aptly named as players enjoy double the Toads, double the fun, and, once completed, two new levels to explore rather than just one. Feed Toad a cherry and a 2nd Toad appears. The second Toad mirrors the movements of the first. You can maneuver the two together, side by side, or separate them to accomplish goals in 2 different places at once.
If you need to concentrate on what one is doing over the other, separate them by cornering one of the Toads into a wall while the other moves freely. But, keep your eyes on both at all times, to make sure neither gets into trouble with surrounding enemies. (There's a version of this level for Toadette to play in Episode 2, called, "Double Cherry Spires").
Another level that's a huge amount of fun is "Mine Cart Tunnel Throwdown." Toad rides inside a mine cart full of turnips which he pummels at enemies, coin towers, POW walls, and jewels while quickly moving along a track. Usually, players can play a level at their own pace, but not with this one. Instead, players will have to let those turnips fly as quickly as possible and aim straight! (There's a Toadette version of this one in Episode 2, called, "Mine Cart Sunset Rundown").
Amiibo Use: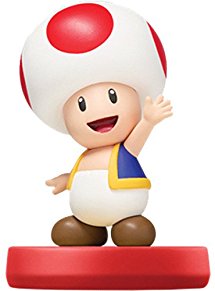 You can start using your compatible amiibos after completing level 1. Specific to "Treasure Tracker," the Toad amiibo opens up a "Hide & Seek" game on courses you've cleared. You're objective is to find the pixelated Toad hidden somewhere in the level. Once you see him, touch his image on the gamepad and he's captured.
All amiibo figures from both the Mario Party and Super Smash Bros. lines will give you anywhere from 2 to 4, 1UP mushrooms, when touched to the Wii U gamepad. That means, the more variety of amiibos you own, the better your life supply. Each amiibo can be re-used for extra lives once every 24 hours.
Final Thoughts:
Captain Toad: Treasure Tracker is a puzzle solving, level exploring, good time. It's a Mario style romp that doesn't overwhelm the casual player, yet has enough challenging content to satisfy an expert gamer or completionist.
Rating: 8.0