The availability of couch co-op titles seems to be on the rise these days which is good news for anyone who loves to team-up with family and friends to take on the challenges of a game. And, if this happens to describe you, then you'll be happy to know that we have another title you can add to your "must play" list.
The game is called BoF1LL: A Withering World. It's currently being developed by Parti Games. And, if all goes well with their upcoming Kickstarter campaign (& finding a publisher), they'll be off to the races with completing their work on their adorable title, (tentatively) scheduled for release next year.
We recently spoke to the founder of Parti Games, Andy Christoforou, about this upcoming platforming adventurer.
Here's what Andy had to say.
Tell us about yourself and how your company, Parti Games, came to be.
Gaming with friends, family, and my wife Shayna (we met playing Halo 3 in 2008) has always been a huge part of my life.
Ever since I was a kid, I dreamed of making and releasing my own game.
I first started getting into game design as a kid, creating maps using the scenario editor of Age of Mythology. I loved publishing my maps to the community and having others enjoy my creations.
Six years ago, I started working with Unreal Engine 4 full-time, building photorealistic Virtual Reality experiences for Architecture, Healthcare, and Real Estate.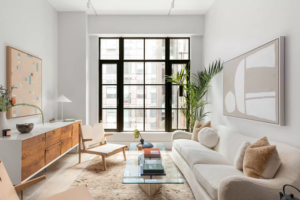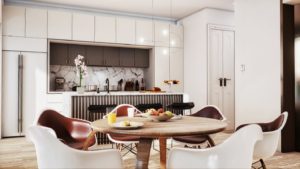 My work allowed me to hone my artistic abilities as a technical director, and helped me understand the background of how games are powered.
During that time, I had the opportunity to work on a game concept at the UE4 Epic Game Jam. The Game Jam was a lot of work and (unfortunately) we didn't win. They did feature our game art, (however), and the experience ignited my drive to pursue game design.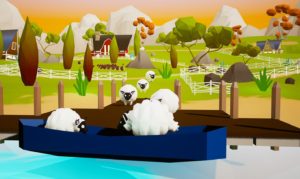 Now more than ever, I understand that games are extremely complicated mediums that require a lot of time, technical knowledge, and artistic vision, which combine to create something amazing.
As I've gotten deeper into Game Design I've realized that this is the work I want to continue doing, and BoF1LL is just the beginning.
This project mimics my life's trajectory. Just like in BoF1LL, our stars, Bo and F1LL, have to undertake the massive mission of restoring their withering Isle. Similarly, reaching my end goal of continuing game development is its own massive undertaking.
After years of being a solo dev and attempting to make BoF1LL myself, it became apparent that asking for help would be the key to bringing this project to life.
I formed Parti Games Inc., as a celebration of collaborative efforts between experienced and talented people. Since the formation of Parti Games, over ten different people have contributed to this effort.
The name Parti Games is actually a nod to my background. In the world of Architecture, a Parti diagram is a simple diagram that explains the concept of a project.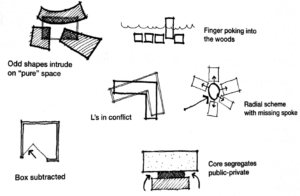 A Parti diagram can relate to how spaces are arranged or how the form of the building is shaped. Parti also sounds like a sophisticated (and fun) way to say "Party" which reflects the playful nature of the games we make.
Tell us about your upcoming title; BoF1LL: A Withering World & the inspiration behind this relaxing, co-op adventure.
As I mentioned before, I met my wife 13 years ago over Halo 3 multiplayer, and we've been gaming together ever since.
Unfortunately, it feels as if fewer and fewer games are both co-op and relatively lighthearted.
At the end of the work day, we don't want to play anything extremely difficult, complex, or violent. We just want to wind down and catch up on each other's day.
I want BoF1LL to be a relaxing game that players can enjoy with a significant other, friend, family member, or even solo.
Who are Bo & F1LL?
Bo & F1LL are our adorable main protagonists!
Bo is a native of Idylla Isle, and her family has occupied the Isle for centuries.
She is a literal chunk of the Isle, composed of rock and vegetation, so she has a very sensitive bond to her home. As Idylla has begun to wither, Bo's family has scattered and must be found.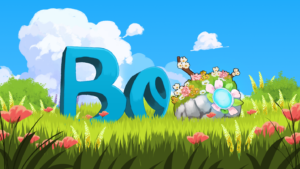 F1LL (pronounced Phil) recently crash landed into Idylla Isle, and ever since, things on the Isle have gotten weird.
He has a metal panel that is engraved with the words "Floral unit 1-Land Locator."
Where did he come from? Can we trust him? All we know (for certain) is he's not from around here.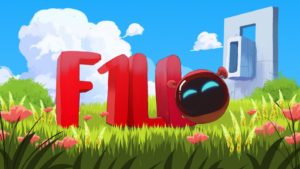 (As for) Bo & F1LL's names, they're partly inspired by one of my favorite architects, Ricardo Bofill, whose (designs) influenced much of the game's architecture.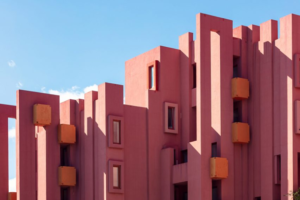 Games such as Banjo Kazooie & Yooka Laylee inspired the names as well. (Like those), I really wanted names that complemented each other.
BoF1LL will be playable solo or couch co-op. Can you explain some of the differences in gameplay between the two? Will solo players control one or both characters?
Each character has abilities unique to them for collaboration between players.
Bo can only interact with organic materials (i.e. trees). She has a rolling ability that lets her smash through blocking boulders, a shield ability that protects she and F1LL, and she can sing!
F1LL can only interact with architectural structures. He has a jump ability that allows him to reach areas (where) Bo can't go and a vacuum that lets him absorb enemy storms.
If played solo, the player will have the option to easily switch between characters, with the press of a button. In situations where it's not feasible to switch, the secondary character's AI will kick in.
What are the essence and fragments that must be gathered in the game? How will these be found/earned?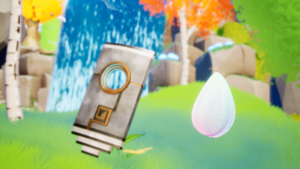 Essence and Fragments act as our in-game currency. Essence drops from organic interactions and Fragments drop from structures.
By exploring the Isle, players will find these resources scattered around, just like you would in a collect-a-thon game from the 90's. These resources are then used to repair the central hub of Idylla Isle.
As the hub becomes more and more repaired, (additional) abilities will unlock and the appearance will change from destroyed rubble to a beautiful village, similar to (how it works) in the Tarrey Town quest in BOTW.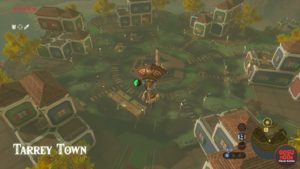 Players will encounter storms throughout the game. Will these be random encounters? Can you give us an example of how players will take them on?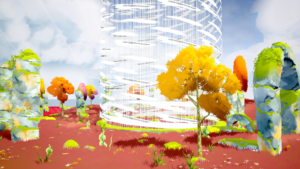 From time to time storms will randomly appear, trying to undo your progress. Bo & F1LL are equipped with complementary skills to fight back, though.
Bo has a Shield ability that will prevent both characters from being sucked closer to the Storm.
F1LL has a Vacuum ability that lets him absorb the storm. However, since he floats above the landscape, he can easily be sucked into the storm and thrown off course.
Through coordination and teamwork, players will need to sync up movements so F1LL can get close enough to the storm to attack.
Tell us how players will be able to see the world in the game respond to their actions in real time.
Due to a mysterious event, Idylla Isle starts in a "Withered" state.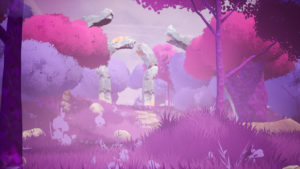 Structures are destroyed, and landscapes are bare. As players interact with the world, objects will become restored.
For example, Bo can interact with a bare tree, turning it from dull & leafless to vibrant and healthy. F1LL can turn rubble into a built structure.
On a micro level, these objects are being fixed.
On a macro level, players will begin to see transitions between the "Withered" and "Restored" states.
– Colors will change
– the world will feel lively
– More NPCs will appear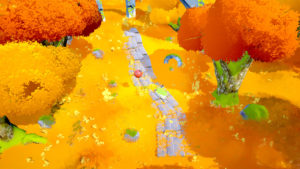 Our characters will grow as well, with new abilities to use to help them explore new areas.
Players will also be able to hear the differences. The "Withered" world has a very somber tone, while the "Restored" world is more upbeat and cheery.
You can link below to hear some of the incredible tracks from our musicians; Alberto Sueri and Johnny Moutzouris:
https://soundcloud.com/alberto-sueri/sets/bof1ll-music-sounds/s-JPepa0m6x44
Speaking of the game's world, it has a beautiful, watercolor look & feel as well as a nice mix of modern and ancient. What was the thought behind the look of the environment? How did you go about creating that beautiful watercolor effect?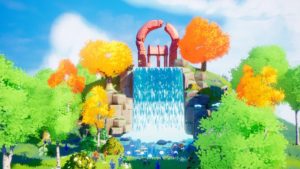 Studio Ghibli films and Breath of the Wild's art have been huge sources of inspiration for us.
We have painstakingly worked to ensure that every 3D model, texture, and all of the lighting is absolutely gorgeous. We believe that games should be visually stunning and evocative, and our inviting aesthetic is important to us.
All of our textures are hand-painted by our artist Jacob Buerom.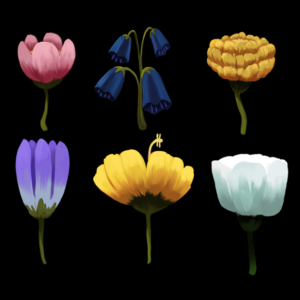 Our lead artist Ares Laezza takes those hand-painted textures to create the stylized materials for our plants and structures. (Ares does a lot of the level/puzzle design, and builds the interactables that players will restore).
Our architectural design is inspired by the works of Carlo Scarpa, Ricardo Bofill, Luis Barragan, and Spomenik Monuments. Each of these architectural languages corresponds to the various biomes of Idylla Isle.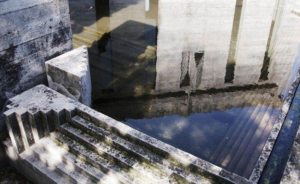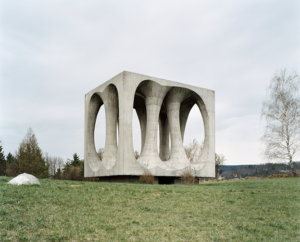 3D Artist Kayla Lee has been working on studying our architectural references and building a modular structure kit for us to (use for) building our environments. (These pieces let us quickly assemble interactables).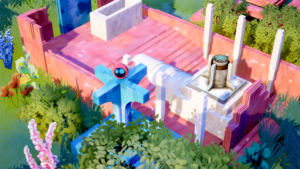 VFX Artist Aric Salyer has been making (awesome) particle effects for the environment and character interactions.
Our programmers, Mikeal Warner and Jordan Green, have been working hard on building the logic of how the world responds to the player as well as setting up the logic behind our two (main) characters' movements and abilities.
You're planning to help raise funds for BoF1LL via Kickstarter. Do you know when the campaign will be happening? What are your main goals? Can you share 1 or 2 cool rewards you'll be offering in exchange for donations?
So far, I've supplied all of BoF1LL's funding.
While personally funding my own indie studio has been extremely expensive and taxing on my savings, I am determined to see it through to completion.
Seeking funding from other sources, such as Kickstarter, will help relieve the current financial pressure, and will give the studio runway to continue production.
Our main goal is to receive enough funding to let us continue building the world of BoF1LL to meet what we first imagined (it) would be.
We are also interested in teaming up with a publisher, who has audience synergy between their portfolio & BoF1LL, as well as experience with Kickstarter.
I'd love to say that we will launch our campaign in Q4 of 2021, but it may be pushed back if we don't have enough Kickstarter Pre-Launch sign-ups (& Steam Wishlists) or a publisher. Luckily, we have some flexibility about when we go live.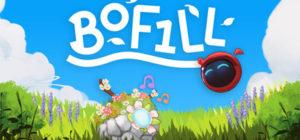 One particular Kickstarter reward that I'm extremely excited about are little statuettes of Bo & F1LL. We've been working with a manufacturing company to produce these little Amiibo-like models for months.
Beyond that, (we'll be offering) some amazing collector items like a mini artbook and bookmarks, as well as giving supporters the opportunity to name Bo's siblings!
When will BoF1LL release? What platforms? Any chance of a physical release?
After a successful Kickstarter, we are estimating about 8-12 months of development time.
Our primary goal is to launch on PC, then the Nintendo Switch, followed by PlayStation and Xbox.
One of the benefits of working with a publisher is having (the needed) help to port our game to multiple platforms. If we don't team up with a publisher, it will take us much more time to secure dev kits and prep BoF1LL for each console.
I'm a huge fan of collecting physical (games). So, if the funding and desire from the fanbase is there, I would love to produce physical copies. (It would be surreal to have my own game in my living room)!
Once BoF1LL has released, do you have plans for additional content (DLC) in the future?
I'd love to say yes. It really depends on what our players would like to see added to the world of BoF1LL. If the demand is there, it would be fantastic to be able to add more to the world of Idylla and expand on our characters' abilities.
Is there anything else you'd like us to know about BoF1LL: A Withering World that we haven't yet covered?
We really want players to explore the world. One thing that's often missing is a lack of rewards for finding cool areas. In BoF1LL we will reward players with resources and a very special collectible (we won't spoil what it's for).
Thanks so much for answering our questions. We look forward to the Kickstarter & release of BoF1LL: A Withering World and wish you/your team all the best.
Thanks for having us! These questions were a lot of fun!
For up to date information on BoF1LL be sure to check out the links below:
WISHLIST ON STEAM: 
http://store.steampowered.com/app/1659190
SIGN UP FOR KICKSTARTER PRE LAUNCH : 
https://kickstarter.com/projects/bof1ll/bof1ll-a-fun-lighthearted-couch-co-op-experience…
SIGN UP FOR OUR NEWSLETTER : 
https://partigames.com
Photo Credits:
Photo #1: Photo of a condo within 517 West 29th St., designed by Andy Christoforou & Ben Hansen, photo credit Douglas Elliman
Photo #2: Rendering of 174 West, produced by Andy Christoforou in 2017.
Photo #3: Screengrab of Mole Mayhem produced for UE4 2018 Game Jam, developed by Andy Christoforou, Michael Koutsoubis, and Christopher Guarino.
Photo #4: Parti diagrams from "101 Things I Learned in Architecture School" by Matthew Frederic.
Photo #7: Photograph by Sebastian Weiss, La Muralla Roja by Ricardo Bofill.
Photo #9: Breath of the Wild, copyright Nintendo Entertainment Planning & Development.
Photo #15: Carlo Scarpa's Brion-Vega cemetery, San Vito d'Altivole, Italy. 
Photo #16: Spomenik Monument on Freedom Hill, Ilirska Bistrica, Slovenia Janez Lenassi 1965.