Although one of us is a bigger fan of platformers than the other, we both were drawn to the idea of leaping into the bright, colorful world of Effie and challenging ourselves to jump, dash, and sidestep through its many locales.
After almost 40 (combined) hours of enjoyable (& frustratingly) fun gameplay, we can honestly say that this is definitely a title that should be added to the digital collection!
Want to know more? Check out our quick review of this indelible indie below.
Title: Effie
Genre: Platformer
Developer: Inverge Studios
Platforms: PS4, Switch, PC, XBox
Quick Summary:
Set out on a mission to find and destroy the Gems of Evil, a Dark Power, and the witch who cursed you with premature aging in this fantastical adventure which hearkens back to classic PS2 platformers in style, gameplay, and graphics.
Pros:
Colorful, intriguing areas to explore
Exciting, heart pulsating, orchestral music
Expertly voiced & humorous narration
Straightforward/simple to learn combat maneuvers
Well balanced mix of exploration, fighting, and platforming
a Fun mode of travel (akin to SSX snowboarding)
Wide variety of challenges (from easy to difficult)
Brainteasing puzzle solving
Achievable trophies
Hidden relics & treasure chests
Fun enemies/bosses (i.e. Luigi's Mansion style ghosts)
Diverse, handy item for travel, defense, fighting, and sitting
Cons:
Inability to save in the middle of lengthy, final challenges
End of locale challenges are almost too difficult for non-expert platformers
Small, annoying glitches (i.e. falling in between large sized objects, getting lost in a dark corner)
Uncertainty of where to go after completing an area
Lack of variety of sound effects for the witch
Difficulty to see at times due to the brightness of the strikes when fighting
Standouts:
Woodborn Locale
Boomerang Fighting Move
Surfing the Red Plains of Oblena
The Runestone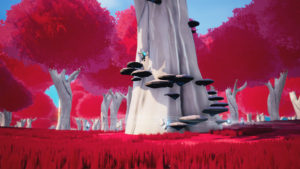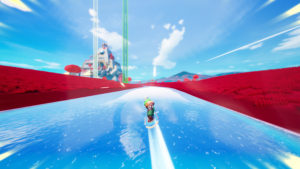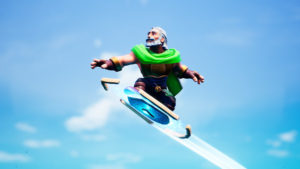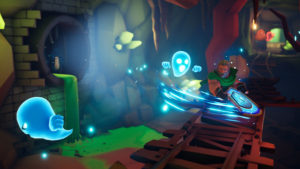 Rating: 8.5
Final Say:
Effie is definitely a title worth playing, with a surfing move reminiscent of SSX, as well as combat, platforming, and exploration similar to PS2 classics such as Ratchet & Clank.
Despite a few minor glitches and a bit of disjointedness in the gameplay's progression, the title has a huge amount to offer players including fantastical areas, lively music, a loveable hero, humorous narration, and non-stop challenges.
For those inexperienced in the platforming genre, Effie will feel like a 6-course meal. For experts, it'll be more like a Big Mac & fries. There may be a little less to chew, but there's still plenty to sink your teeth into and you'll be more than satisfied when you do.
Where/How to Buy:
Effie retails for $19.99 (standard edition) and is available digitally for PS4, PC, XBox, & Switch.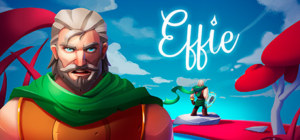 Follow the latest news from developer, Inverge Studios, via Twitter.
Watch a trailer for Effie, here.
Note:
Game Cuddle was provided a free key from the developer for this review.