As part of Pokémon GO's, Season of Mischief, celebrating psychic, dark, and ghost types, the awesome Legendary bird, Lugia, will be returning to Tier 5 raids. He won't be coming back just as we remember him, however, as this time he'll come equipped with a new (& slightly improved) move called Aeroblast.
Planning to take on this wild beast? Here's a few things you'll need to know.
Available in Tier 5 Raids:
Start: September 1st (10am)
Ends: September 14th (10am)
Special Raid Hours:
September 1st (6-7pm)
September 8th (6-7pm)
Basics
– Legendary
– Flying/Psychic type
– Generation II
– Strengths: Fighting, Poison, Grass, Bug
– Weaknesses: Ice, Dark, Ghost, Electric, Rock, Bug
New Move: Aeroblast
Slightly improved DPS (Damage per second) over Sky Attack
Sky Attack DPS: 27.3
Aeroblast DPS: 28.8
Perfect IV's
100% IV: 2115CP
100% WB IV:  2645CP
Lugia is boosted in Windy Weather.
How Many Trainers Needed?
For teams of level 40+ trainers with maxed out counters: 4-5 
For less experienced teams of trainers: 6-8
Counters
Mega Houndoom: Snarl/Foul Play
Mega Gengar: Shadow Claw/Shadow Ball
Darkrai:
Snarl/Shadow Ball
Snarl/Dark Pulse
Rhyperior: Smack Down/Rock Wrecker
Giratina Origin: Shadow Claw/Shadow Ball
Yveltal: Snarl/Dark Pulse
Tyranitar/Shadow Tyranitar: 
Bite/Crunch
Smack Down/Stone Edge
Gigalith: Smack Down/Rock Slide
Regirock: Rock Throw/Stone Edge
Rampardos: Smack Down/Rock Slide
NOTES: 
Best counters for Lugia are Dark, Rock, & Ghost types.
Rock types are boosted in Partly Cloudy weather.
Dark & Ghost types are boosted in Foggy weather.
Shiny: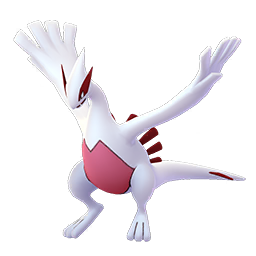 Read more about the Season of Mischief on the Pokémon GO blog.
Good luck!
Source: Niantic