Load up on raid passes, grab some Pokémon GO friends, and get ready for a Heatran seeking good time when the Fire & Steel type Legendary returns to Tier 5 raids this week, bringing with him a shiny version.
Here's a quick rundown of what you'll need to know to take this bad boy down.
Basics:
– Fire & Steel type
– Sinnoh Region/Generation 4
– Weak to Ground, Fighting, & Water moves
Movesets:
Best Moveset:
Heatran's best moveset depends on the situation.
For Most Gyms/Raids: Fire Spin/Fire Blast
Against Ice & Fairy Types: Fire Spin/Iron Head
PvP Battles: Fire Spin/Stone Edge
Hardest Move to Beat:  Fire Blast
Perfect IV's:
100% IV: 2145CP
100% WB IV: 2681CP
Heatran is boosted in Sunny or Snowy weather.
Counters:
Rhyperior: Mud-Slap/Earthquake
Garchomp: Mud Shot/Earthquake
Groudon: Mud Shot/Earthquake
Excadrill:
Mud Slap/Drill Run
Mud Slap/Earthquake
Rhydon: Mud Slap/Earthquake
Golurk: Mud-Slap/Earth Power
Golem: Mud-Slap/Earthquake
# of Trainers Needed for a Defeat:
If Level 35 or above with maxed out counters: 2-3 players
All other groups: 4-5 players
Shiny: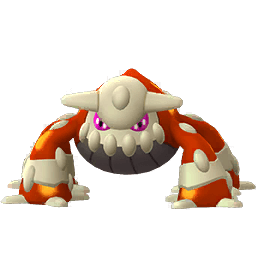 Heatran will be available in Tier 5 raids starting Tuesday, January 7th.
Good luck on your hunt!
Sources: Niantic, pokemogohub.net (shiny pic)