Monster Hunter Stories is a bright, beautiful, extraordinarily fun 3DS adventure that can be enjoyed by anyone, from casual to hardcore. It lays the foundation for anyone new to the series but still has plenty to offer those who've played before.
The Basics
Rider
The game introduces a new premise to the series; the Rider. Unlike Hunters whose main purpose is to physically strike down their enemy on their own (or with other Hunters), a Rider teams with a Monstie (monster/bestie) to use a more strategic, team based, skill attack approach.
Monsties
The Monstie is a Rider's best friend, who can serve as a mode of transportation as well as a formidable sidekick in battle. A Rider forms a special bond with his/her Monstie when the creature is born, with the help of a Kinship Stone.
Kinship Stone
The Kinship Stone is given to a Rider during the Rite of Kinship ceremony. It's worn by the Rider at all times and is an important tool used in battle. The more you work with and do things (i.e. provide healing) for your Monstie, the faster the Kinship Stone Gauge will charge up. Once it's filled to the brim, it brings about a multiple hit, Kinship Stone, "Ride On" attack that deals a huge amount of damage to any enemy.
Monster Dens & Stables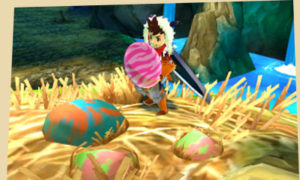 Monsties are hatched from the eggs you find in Monster Dens. Really rare Monstie eggs can be found in special, gold colored dens.
The more eggs you hatch, the more choices you have for your 5-member Monstie team. These are the Monsties you travel with and can use in any battle/situation. (i.e. You'll use a Velocidrome when you need to jump).
To obtain an egg, you'll have to be daring and quick on your feet. There will be several enemies along the path to the nest, which you can fight or outsmart and avoid. You may also have to contend with a monster protecting the egg nest. If you can't outrun him, a battle will ensue.
You can procure and carry up to a dozen eggs at a time. When you're ready to crack 'em open and see what's inside, you'll need to visit a Stable. Here, you can hatch, manage your 5-member Monstie team, piece together egg fragments you've collected, release un-needed Monsties into the wild, send Monsties on Expeditions to collect items & earn EXP, and/or conduct a Rite of Channeling.
Rite of Channeling
One of the most unique aspects of the game is the Rite of Channeling. This is the process through which you extract a gene from one Monstie and give it to another.
Prior to obtaining this ability, a player must constantly change out members of his/her Monstie team according to the skillsets needed in each new area that's entered. Once this ritual becomes available, players can continue to use their favorite Monstie(s) and add genes to them that make them much more diverse.
The process is straight forward and fun to use. It's quite extraordinary to watch a new skillset be given to a beloved Monstie and then watch him put it to use.
For instance, I transferred a gene from a Yian Kut-Ku to my Lagombi that allowed this ice creature to breathe fire.
The one thing to keep in mind when performing this ritual is that the Monstie who gives up a gene will disappear from the Stable, permanently.
Story
Unlike the deep, immersive storylines of other RPG's, MHS never gets so involved in the narrative that you'd get lost if you needed to leave the game and return a week or two later.
Even though the storyline isn't complex in and of itself, it does touch on some very deep subjects. Human prejudices are examined through the divisions between Hunters and Riders. A deranged doctor is used to illuminate the subject of human cruelty to animals. A character who's been through a tragedy becomes hardened with anger and seeks revenge. A terrible evil threatens to take over the land and, if not stopped, will destroy mankind.
Even with the heavy subjects, there's a lightness to the spirit of the game. It's also doused with plenty of the zany, goofy humor that Monster Hunter is known for.
Exploring
One of my very favorite parts of MHS is the exploring. It's hugely fun to ride on the back of my Monstie, skimming past enemies, searching wide-open areas (and monster dens) for items to add to my inventory, and then finding out how each new acquisition can be used.
Some may be for healing while others are for armor upgrades and still others may be sold for zenny (money). No matter what the item may be, you can guarantee it will come in handy and, in some way, help you function and progress forward in the game. (Even the bottle caps have purpose).
While exploring you will have many places you can go. To help ensure you don't get lost, there's an easy to read map always on display as well as your trusted friend, Navirou, who will keep you on track.
Traveling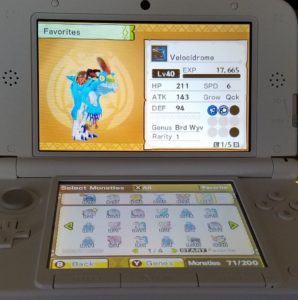 The first mode of transportation you're given is a Velocidrome. He may not look like much, but he's actually a terrific little sidekick to have. He's light on his feet, can jump elevations, and easily scathes past enemies.
A few hours into the game, Catavans will become available. These are umbrella stands guarded/run by Felynes. To activate (open) one, simply walk up to it. These stands allow you to save your game and to fast travel to any other Catavan site you've already discovered (and is listed on your map).
Once you've made it through a good portion of the game, you'll earn the ability to fly (via a certain type of Monstie). Of all the modes of transportation, this, of course, is the best. You get to soar through the air, survey the ground below, easily avoid enemies, effortlessly spot monster dens, and quickly travel to your next destination. It's easy to maneuver with the touch of the B button and, if you want to land or take off, all you need is enough room on the ground to do so.
Story Quests and Subquests
Story Quests are assignments you're sent on by certain characters that help forward the story.
Subquests are "side quests" which you can choose to accept or not. If you do accept and complete one, you're rewarded with zenny (money), EXP, and important items such as recipes and skill scrolls.
The more experienced you become, the higher the level of Subquest you're allowed to participate in and the better the reward.
These quests can be found on message boards, given to you from individuals, found at the Armory & Smith (forge quests), and offered through DLC. If you ever need to reference the subquests you've accepted as a reminder of what you're trying to accomplish, you can find them under the Camp Menu/ Subquests.
Poogies
One of the most cutely, fun things you can do in the game is searching for lost Poogies. Similar to searching for Koroks in BOTW, it's greatly rewarding when you find one.
With each one you locate, an entry into the Encyclopoogia is received as well as an item earned. You also reap another reward for every 10th found.
Grilling Meat
It's a longstanding tradition of the Monster Hunter series to grill meat on a BBQ spit. If you feel like cookin' up some raw meat and putting your BBQ skills to the test, you can visit the Grillmeister. Here, you can create food that will help you recover HP in battle. If you achieve the desired well-done steak, various seasonings can be activated that will strengthen your defense, attack, and speed as well.
Prep for Battle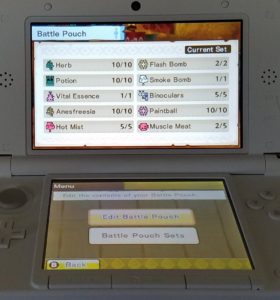 As important as it is to know how to handle yourself in battle, it's just as important to prepare yourself beforehand. Your armor, weapons, Monstie team, and Battle Pouch, all help determine your fate against the enemy.
Armor and weaponry can be acquired from the Armory & Smith in any area in which one appears. You can buy new, upgrade what you're currently using, or forge quests to create unique weapons and armor that works well (creates Synergy) with a certain Monstie. All of this is quite costly though, so if you're in need of some zenny, you can sell items and accessories that you have too many of or armor/ weapons that're no longer of use.
Before you go to do battle in a certain area, you'll want to make sure you have the best Monsties for the job ahead. You can choose 5 to be on your team. You'll choose them based on the layout of the land (vines, hills, water) as well as the skillsets needed to combat the enemies you'll encounter.
When in battle, you'll need to have quick access to items that can help you survive. These are retrieved from your Battle Pouch. Out of the many items in your inventory list, only 10 can be taken with you into combat. This means you'll have to choose carefully based on the types of attacks you anticipate incurring (which varies by area) and your personal preferences/strategy.
Battling
Although the battling system strays away from the run, jump, and slay mentality of the other games in the series, it still offers a great deal of excitement for fans both old and new.
One of the things that makes combatting an enemy so stimulating is the amount of strategy and decision making required each time you fight. You must anticipate the next move of your enemy, decide which of several types of attacks/ skills you and your Monstie should use, work on powering up your Kinship Gauge, and know when it's time to heal.
Although there's a bit of room for error in most fights, staying on your toes is a must. Not paying attention to your enemy's order of moves or being caught unaware when it's time to attack the A button for a head to head power clash, can mean the difference in success and defeat. There's also incentive to do your best with each confrontation in the form of rewards and a rank/score (perfect is a 1000 point S ).
Music & Graphics
If you're going to live with a game for 100 or more hours, then it needs to be pleasant to the ears and eyes. MHS definitely achieves both.
The graphics are extraordinarily clear and detailed. Each area has its own personality from the crisp white mountains of the Darj Snowfields to the dry, desolate, orange tinted Trese Desert to the absolutely gorgeous pink blossomed, grass covered hillsides of Perennial Pass.
The music is light, peppy, and perfectly woven into the experience where it enhances rather than intrudes. There's also an unexpectedly wide variety which differs based on region as well as where you do battle (in the wild vs. in a Monster Den).
Amiibo
Although 5 Rider amiibos and a Navirou were created for the game, they were not released in the U.S. This is highly disappointing since these are some of the best-looking Nintendo statues to date. The Riders are also HUGE in size.
So far, I've managed to obtain two to open and use; Navirou and the one-eyed Rathalos with Rider.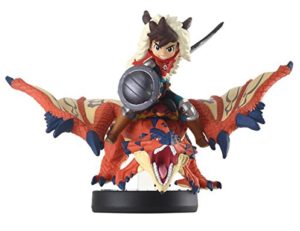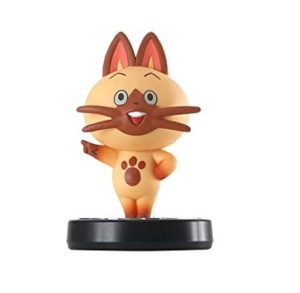 Based on the 1-time gifts I received from each, I'm led to believe the other 4 Riders would be worth owning/using in the game.
If you wish to acquire these items, you can import them through Amazon for a pretty good deal. They usually run in the range of $15 to $20 ($20-25 for Navirou).
Network Battles
Network Battles allow you to pit your best Monsties (choice of 3) against those of other players, through local and on-line play.
There are various choices of rules you can play by, including playing without any rules at all. Different awards are available based on which type of rules you use.
Local play is for battling players close by. With on-line you can let a challenger be selected at random or go for a specific adversary using that person's Match ID.
These battles can be accessed in the start-up menu or via a Clerk in the Albarox area.
Versus Mode & Tournaments
You can exchange battle information with another player using the StreetPass Party function. Afterward, the two of you can battle it out inside the Rider's Arena in Versus Mode.
There are 2 kinds of Tournaments:
– Those that are a part of the game
– Those acquired through DLC
In each, you and your Monstie (choice of 3) will go head-to-head against another Rider/Monstie team. To win a Tournament, you must successfully complete 3 rounds and a Final.
Each Tournament has a level; bronze, silver, or gold. The higher the level, the better the reward. If you happen to lose a tournament you will receive a small parting gift (i.e. 3 herbs) for participating.
If you're looking for a truly rewarding tournament challenge, check out the Zelda Series that's part of the downloadable content. But, be prepared to work hard in order to obtain the prizes that await.
StreetPass
StreetPass is accessed through the Courier. It's used for exchanging battling information (as mentioned above), swapping Monster Dens, and sharing Rider Cards.
Final Say:
Monster Hunter Stories is a humorous, strategic, Monstie riding, Poogie searching, battling good time. It allows an accessibility for the casual gamer that the series has been missing. It's also a fresh, new take for longtime fans and a perfect precursor to the "MMM, So, Tasty!" Monster Hunter World release next year.
GC Rating: 9.0
Who Is This Game For?
Casual Gamers 
Hardcore Gamers
Longtime Monster Hunter fans
Fans of strategic, action RPG's
How to Purchase? (as of 11/17/17)
A physical copy of this 3DS game will cost $39.99 and can be found at pretty much any retailer, both brick and mortar stores as well as on-line. This includes GameStop, Best Buy, Toys R'US, Target, Wal-Mart, and Amazon.
You can also purchase/download a digital copy of the game from the Nintendo eShop for $39.99.
Still Uncertain about Purchasing the Game?
Download the free Demo from the Nintendo eShop.
Developer: Capcom
Publisher: Nintendo
Genre: Action, RPG
ESRB: E10+
# of Players: 1
(Picture Sources: Feature & Nest: nintendo.com, Amiibo Pics: amazon.com )