Niantic released their latest update to Pokémon Go last Friday. With it, came 50 Hoenn region monsters and a myriad of new features including a weather system and the ability to preset battle teams. After spending several hours with this newest version of the game, here's a quick rundown of what's changed and our personal thoughts about Niantic's modifications.
Weather System
The Basics
Niantic's new weather system is an intriguing feature which connects the in-game Pokémon to the outside world.
As weather changes in a player's real-life location, the type of Pokémon most likely to spawn in the game will change accordingly. Atmospheric fluctuations will also allow certain Pokémon to do more damage when in battle and offer up some extra Stardust (usually 25+) when caught.
When you first go into the Pokémon Go app, you can see what the current weather report is by clicking on the weather indicator above the Pokémon tracker.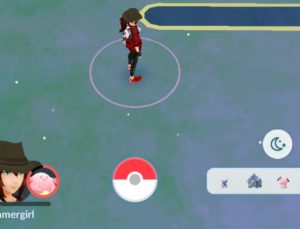 Here, you'll also see a list of which Pokémon find the current weather favorable.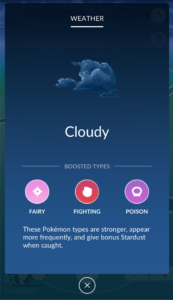 To know which Pokémon will do a little extra damage at the gym, you'll have to look for them individually. When you do, search for a cloud symbol to the left of the creature's attack move and a + symbol and a number to the right.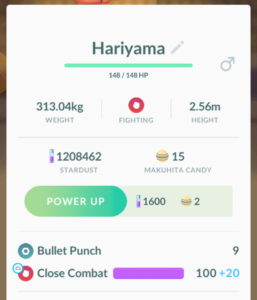 The + number is an indicator of the extra damage that a specific creature can do in combat, while the weather is favorable.
Our 1st Experience with the new feature
When trying out the weather system for the first time we had the privilege of doing so when it snowed. This, as you can see below, is the most beautiful and detailed weather animation of them all.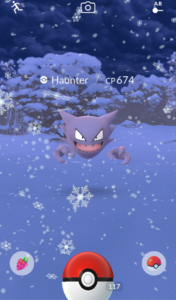 It's also hugely fun to catch Pokémon in this atmosphere and see what they look like surrounded by snow. Some fit right in, while others, like the Haunter, humorously stand out like a sore thumb.
Another positive with this new feature is that it's easy to tell which catchable Pokémon will give you extra stardust. It's the ones who have a thick, white swirl animation that continuously circles around them. Most will give you a boost of +25 stardust.
Probably the biggest problem with the new feature is that it has a hard time keeping in alignment with the weather in real-time. On Friday, it snowed for a few hours before being reflected on the in-game map and weather report.
Interestingly enough, the weather function seemed much more responsive during the nighttime than during the day.
Another disappointing part of the feature is that it doesn't seem to cause more spawns of Pokémon that are usually rare to our area. Ice and Steel types are supposed to be more prevalent with the snow, but they were not on Friday. Instead, we saw almost none of these types like normal, even during the snowstorm.
New Pokémon
It's always exciting when new Pokémon are added to the game. Although Generation 2 was a bit lackluster, Generation 3 has HUGE amount of potential.
There are also a ton of really well-designed creatures that are just a heck of a lot of fun to find/catch.
Here's a list of what we've personally caught/seen so far.
Gulpin, Breloom, Plusle, Mightyena, Nuzleaf, Mudkip, Torchic, Hariyama, Poochyena, Ralts, Slakoth, Zangoose,Shroomish, Wurmple, Roselia, Makuhita, Seedot, Electrike, Zigzagoon, Skitty, Treecko, Skitty
While you're out catching, you may notice the max amount of Stardust has now been raised. Before the update, the maximum amount a Pokémon could have was 5000. Now, it's 8000.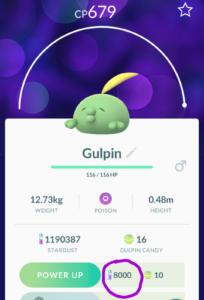 One of the more practical results of the new update is an increase of Pokémon storage space. Players can now increase to 1500 slots. Storage space can be bought in increments of 50 for 200 coins each. And, in case you hadn't yet noticed, Niantic gave everyone 50 slots for free. (Now, we just need to convince the developers to give us more item space).
Gym Battles
Some terrific cosmetic changes have been made to battling.
The effectiveness indicator for how your fighter is doing against an opponent has been moved to the lower, right hand corner. Here, you will now see a running commentary of this information as well as the specific attacks you and your opponent are using.
The Charge attack indicator has also been moved.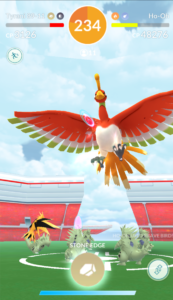 It's now, a huge bar, at the bottom of the screen with a circle above it that lights up when the charge attack is ready for action.
Personally, we love this new positioning. Now, instead of pressing down on the screen (sometimes repeatedly) until a charge attack triggers, you can lightly tap on the highlighted circle.
To make sure that you're always hitting the charge attack move when it's ready, we recommend making the circular area the place on the screen that you touch throughout a battle.
Battle Teams
One of the most time saving new features Niantic has given players is the ability to create battle teams.
You can put together up to 6 different teams, naming each whatever you want. You can either select your 6-member Pokémon team manually or save a team that the game puts together for you prior to a gym raid.
For instance, if you like the team the game has assembled for a Ho-Oh raid, you can star it and then name it Ho-Oh.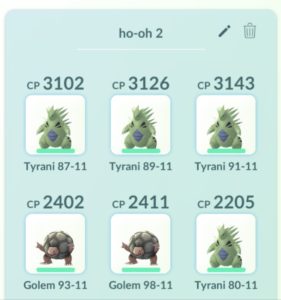 You can then use this preset team in battle the next time you go against this Legendary.
Either way you go about it, (manually or not) this is a wonderful addition that saves the trouble of trying to hastily assemble a team of fighters/defenders in the seconds leading up to a gym raid.
All in all, we're very excited about this latest update to our favorite mobile game. Even though there's still more to learn and a few kinks for developers to work out, we can honestly say that this is the most in-depth and thrilling modification yet.
Well done, Niantic!
(Picture Source: Niantic)