My wife and I love nothing more than discovering new game, movie, and comic book stores whenever we travel. Even if we're going to a place we've visited before, we like to research the area prior to our trip to make sure we're not missing anything new.
Last October, we took a day trip to Columbia, SC, where we discovered a multitude of great, new retailers, all of which were hugely fun to shop. We had a couple of places we wanted to visit in and around Greenville, SC as well, but ran out of time to check them out before our day came to an end.
When my birthday rolled around in May, I decided the time was right to finally investigate the 2 stores we'd missed last year. And, while we were at it, maybe hit some familiar shops located in areas we'd pass through on our way back home.
Here's a breakdown of what we found at each store as well as my personal observations of what makes each business stand out from the rest.
NOTE: Pricing/Inventory currently in these stores may vary from what we mention in this article. This information is from our visit over Memorial Weekend 2017.
The Video Game Cavern (1st time visit)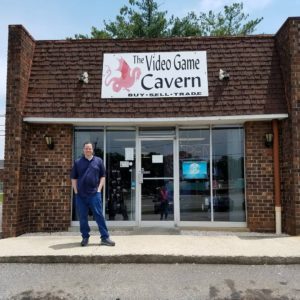 Offerings:
Retro, Last Gen, Current Gen games, systems, & accessories
New & Used inventory
Buy, Sell, Trade
Repairs on Games, DVD's, CD's
Standouts:
A retro corner (with old school games for sale) that takes up ¼ of the store
Great racking that makes it super easy to shop
Outstanding DS & 3DS selections
One of the best Wii offerings I've seen anywhere
Seriously great deals on items they're trying to move out of inventory
Terrific customer service
Great atmosphere- light, jovial
Sponsor of the Southeast Game Exchange
Location:
3058 Wade Hampton Blvd. Taylors, SC 29687
Follow on Social Media:
Facebook
Twitter
1UP Video Games (1st time visit)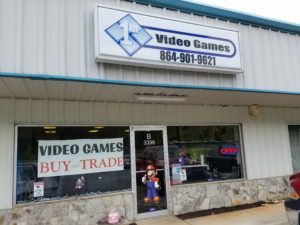 Offerings:
Retro, Last Gen, Current Gen games, systems, & accessories
Super Repro Bros.Com produced games
New & Used inventory
Buy, Sell, Trade
Per their Facebook page, 1UP will now be carrying items from Hyperkin Products
Standouts:
Neighborhood atmosphere
Great selection of $10 and less Genesis, N64, SNES, NES, Dreamcast, Sega Saturn, Intellivison games
2 Limited Run Games for sale (that had been traded in)
Friendly customer service
A corner set-up to allow customers to try out the Super Repro Bros.Com games
Sponsor of the Southeast Game Exchange
Location:
3398 Anderson Road, Greenville, SC 29611
Follow on Social Media:
Facebook
G2K Games (familiar territory – love these stores)

G2K Games consists of a small, independently owned chain of stores in the VA, TN, SC, and NC areas. Although each store that I've visited within the chain have very different looks and set-ups as well as things they make them each unique, they do have some basic offerings in common, which are listed below.
Offerings:
Magic the Gathering
Pokémon & Yu-Gi-Oh!
Board Games
Tournaments
New Comics
Used DVD & Blu-Ray movies, TV Seasons
Plushies
Amiibos, Inifinity, Skylanders
Figures (i.e. Figmas)
Bust Banks
Retro, Last Gen, Current Gen games, systems, & accessories
New & Used inventory
Buy, Sell, Trade
Customer Discount – Big Blue Card- Save 10% off pre-played merchandise, comics, manga, and graphic novels.
1st Location Visited (Wal-Mart shopping center):
4811 Old York Rd-Suite 102
Rock Hill, SC 29732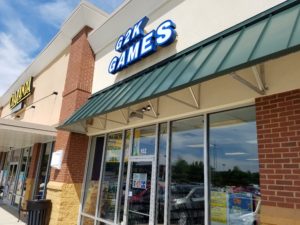 Standouts:
Huge amount of great looking used systems throughout the store (esp. Wii, PSP, Sega Genesis, XB1)
Large selection of PSP, PS2, XB360 & Wii games
Several hard to find/ rare PS1, PS2, & GameCube games
Nice variety of original DS games used for $9.99 and under
Huge selection of board games (beyond the basic selection in the other location)
Outgoing, knowledgeable employees
2nd Location Visited (Rock Hill Galleria):
2301 Dave Lyle Blvd – Suite 117
Rock Hill, SC 29730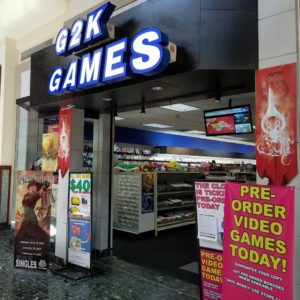 Standouts:
Unique Framed Art (Zelda, Super Mario World, Star Wars)
Large selection of used systems (esp. PSP, SNES, XB360, N64, PS2 slim)
Variety of $9.99 and less retro games (Genesis, Dreamcast, N64, NES, SNES, Atari 2600)
Nice amount of Wii games
One of the largest amounts of PS2 games I've seen for sale in a store in a longtime
Huge amount of Pokémon plushies
Follow G2K Games on Social Media:
Website
Facebook
Instagram
Video Game World (one of my favorite independent stores in NC)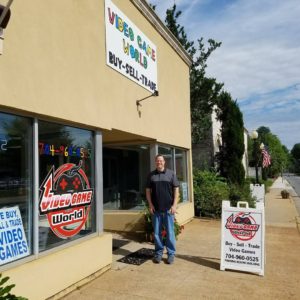 Offerings:
Retro, Last Gen, Current Gen games, systems, & accessories
New & Used inventory
Buy, Sell, Trade
Strategy guides
Posters
Shirts
Manga books / DVD's
Standouts:
Guitar Hero guitars – great shape for $25 (price 5/27)
RetroN systems
Nice variety of GameCube games
Large amounts of Wii, XB360 games
Original NES in box ($150 – 5/27 price)
Pokémon plushies
Kingdom Hearts & Final Fantasy jewelry & keychains
Pokémon badge sets
Video game themed lanyards
Two store locations:
(This is the one we visited)
105 S. Old Statesville Road
Huntersville, NC 28078
&
152 N. Main Street
Mooresville, NC 28115
Follow on Social Media:
Facebook
If you find yourself traveling to or through any of these areas, I encourage you to give these stores a visit. Whether you're a collector, enthusiast, or retro gamer, you won't be disappointed with what you find.