The Southeast Game Exchange in SC on Saturday was everything it was promised to be and more. 40 vendors from far and near jampacked their best wares into the Hilton Greenville, ready to make a deal. Hundreds of enthusiasts and collectors hustled and bustled their way around the convention floor to find the games, accessories, figures, toys, plushies, artwork, and t-shirts they just couldn't live without.
Buying, selling, and trading wasn't all that was had as many also came to compete. There were 6 different competitions throughout the day, ranging from the fastest run through a level in Super Mario Brothers 3 on the NES to seeing who could knockout their competition in Arms on the Nintendo Switch. For the winners, there were one-of-a-kind trophies and baskets of prizes to take home.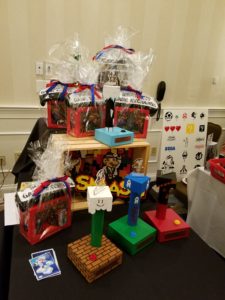 A wide variety of cosplay was also on display. Many of all ages came in their most unique, innovative, and beautiful creations. Several awards were given out, but the lady pictured below took the prize of the day.

Another exciting part of the convention were panels conducted by experts in the fields of cosplay, YouTube, speedrunning and music. Although we weren't able to attend all of them, we did make it to 3 of the 5.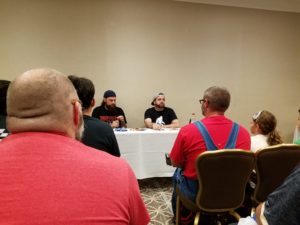 YouTube sensations RGT85 and Scottsquatch conducted a lively, audience interactive discussion filled with intermittent, random questions and giveaways. They discussed favorite consoles, biggest influences, collecting, buying/selling, balancing public life with private, and how having good content in your YouTube videos is much more important than using nice equipment.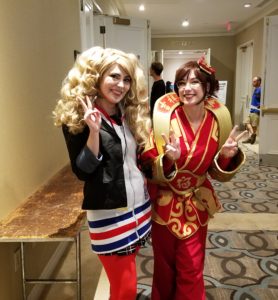 Cosplay experts Amanda Finley and Mira Scarlet had great advice for amateurs and pros alike. They talked wearing and styling wigs, money saving tips, contouring make-up to give it depth, how to's on cutting and using Styrofoam, costume storage, and faking a full body paint look.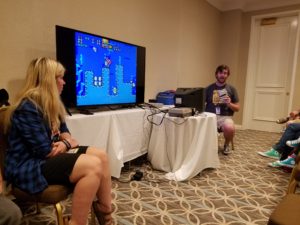 Speedrunning World Record holders; LackAttack24, Zoasty, Skybilz (left side of pic), and Authorblues (right side of pic) showed off their skills and discussed in detail how they've honed their craft. We heard about the tightly bonded community of GDQ (Games Done Quick), time saving tricks and glitches, how being great at games isn't a prerequisite for speedrunning, and the importance of picking the right game if you're going to try your hand at this competitive field.
As you can see there was no lack of exciting things to do at the SEGE. However, if you did need a respite from the crowd, they provided that too. 1UP Video Games sponsored a play room where attendees could try their hand at a number of games, retro to current, and do so at their own, leisurely pace.
All in all, we had a huge amount of fun on Saturday. The vendor selection was tremendous. The special guest panelists were informative. The competitions were fierce and enjoyable to watch. The cosplayers were original. And, the volunteers did a great job of helping everything run smoothly.
A big thanks to event creator, Austin Bell, and his wife, Julie, for putting together a convention to remember. We're already looking forward to next year!
If you'd like to see a full gallery of pictures from the event, check out our Instagram account.
If you'd like to know more about the SEGE event and its origins, check out our interview with Austin Bell.
You can also find out more about the SEGE on their official website or Facebook page.