As a couple who loves to play video games together, we're always on the lookout for good co-op titles. And, we believe we've found just that in a bright and colorful adventure entitled "River Tails: Stronger Together."
We recently asked the creators at Kid Onion Studio about their upcoming release. You can see what they had to say in our interview below.
Tell us about Kid Onion Studio.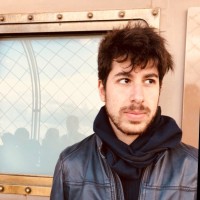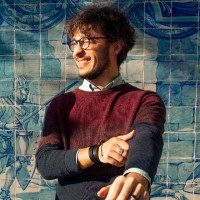 Kid Onion Studio, born in 2021, is the brainchild of Francesco Mazza and Gabriele Gangemi.
We are lifelong best friends who grew up at the foot of Mount Etna, in Sicily. We spent our days playing video games, painting graffiti around the city, and coming up with all sorts of creative projects (drawing comic strips, writing stories, making short films, etc.).
As cliché as it may sound, building Kid Onion Studio together has always been a dream of ours.
We've tried to be sensible grown-ups for the last ten years and have "normal" jobs. (Francesco is an art director for children's cartoons and Gabriele is a math teacher and commercial video director).
But, recently we decided it was time to take the plunge.
The last few years have helped us build up (our) experience (and funds) which made it possible to launch Kid Onion Studio. And, (now) we're more motivated than ever.
(Our) vision is to create bold, wholesome, original content with a humorous touch. First stop, River Tails: Stronger Together.
Tell us about River Tails: Stronger Together. What was the inspiration for the game?


River Tails is the game we would want to play during a relaxing evening together, one of those evenings where you just want to kick back with a pizza and a beer and go on a new and entertaining adventure.
This vision has helped guide the development of the game.
Francesco has also, often complained about not having the perfect game for a quiet evening in with his girlfriend (who is not a big gamer herself). We think River Tails caters to that dynamic also as well as the one between parent & kid.
If you want to get a sense of what we're going for, think, a little bit of Brothers: A Tale of Two Sons, a splash of Rayman, a sprinkling of Crash Bandicoot (we are 90's kids, after all) and a very large dose of co-op action.
Tell us about the environment/setting for the game.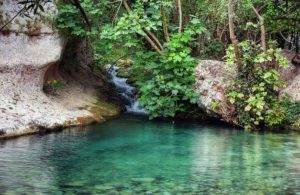 Visually, our inspiration comes from the landscapes and waterscapes of Pantalica, a nature reserve built around an ancient necropolis in Syracuse, Sicily.
It is honestly the most breathtaking and peaceful place, such a hidden gem. It has these crystal-clear waters, flanked by huge, gnarly trees and steep rocks.
When you're there, you feel like the only people in the world.
We've been hiking/swimming there together many times. Not only is it a beautiful place, but travelling up the river epitomizes the importance of teamwork (you have to help each other clamber over rocks, stay afloat, get good footing) — "stronger together" indeed!
Why choose to make a co-op title?
We've been toying with the idea of creating a co-op game for a few years now.
Often our favorite parts of games are the co-op challenges, but we find those sections are much too brief.  We've never quite found the perfect game to play as a pair, so our goal is to create just that.
The overall aesthetic of RTST is bright and colorful and wildly fun. How did the art style of the game come about?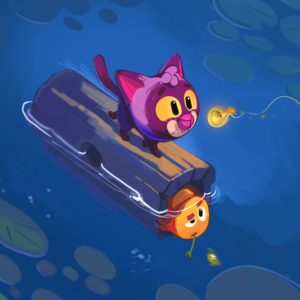 Firstly, thank you. The aesthetic you describe is exactly what we're going for! Bold shapes, expressive eyes and fun little details (have you noticed the frogs' bums?).
This is actually Francesco's natural style. After years of fitting the design of characters to the client's brief, which was often quite precise, now his true style is set free. (It's amazing to express oneself knowing that the only criteria is producing art that the Kid Onion team is proud of).
The 2 main characters are a Furple the cat and Finn the fish. What made you choose these two animals, who would normally be thought of as enemies?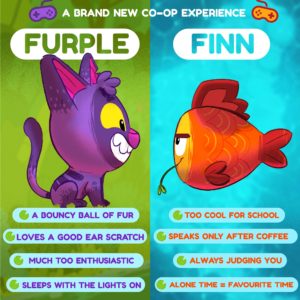 As you say, a cat and a fish aren't the most obvious friends, and that's part of the fun. It's not a natural collaboration and so there's less danger of cliché. We get to imagine the relationship between them and the narrative that plays out.
We've given Furple and Finn quite different personalities, too. Furple is an excitable kitten. Finn is cool and a little bit grumpy, with a wicked sense of humor.
Despite all of this, they join forces to achieve a common goal which is to get home in time to save Furple's family from a terrifying wolf.
But, as you might have guessed, the journey home will not be an easy one.
How will Furple the cat differ from Finn the Fish when it comes to moves/abilities?
While Finn swims through the river's glistening waters, Furple has to find other ways to travel. He trots along the river bank, hops from lily pad to lily pad, climbs rocky outcrops, etc.
Our two characters inhabit different and opposite elements (water vs land), and, therefore, have different moves and abilities. Each can jump and grab things in their own natural environment, for example, but can't perform these actions in the other's habitat.
In a nutshell, one character's comfort zone is the other character's danger zone.
Luckily, though, Finn and Furple are able to help out their companion if they get into a sticky situation with an "ask for help" feature. Both cat and fish have the ability to pull the other animal's tail and bring them back to safety.
Each level will also feature some specific actions and mechanics based on the particular theme and environment the characters enter. What's more, in different levels the relationship between "helper" and "helpee" changes. Sometimes Furple cannot progress without Finn creating a path for him (and) sometimes the courageous kitten is the one to lead the way.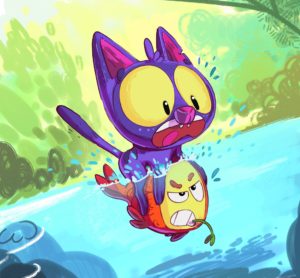 Can you describe the puzzle solving gameplay for us?
Working together is the only way you can solve puzzles and make progress in the game.
In each level, the players will find new animals and natural elements blocking their path, and will have to work out how to combine their respective abilities to overcome them.
For example, in one situation, Finn has to harness the fact that some disgruntled turtles are chasing him by moving to arrange them so that their shells can function as stepping stones for Furple.
Along the way, there will also be mini-bonus challenges which reward the best displays of teamwork with a special rainbow bird.
How will players work together to take down bosses? Can you give us an example?
Fighting end-of-level bosses will require Finn and Furple to remember and exploit the specific mechanics and behaviors they've learned during the level. But they shouldn't get complacent, as there will be some funky, unexpected twists.
The two players need to think and communicate fast to understand the boss's weaknesses, and then strike.
One boss our intrepid duo will encounter is a huge frog, who has been woken from his nap & is not best pleased. Arms crossed, eyes narrowed and mouth ready to snap, he wants to chase and squash Furple to teach him a lesson.
This is not the first frog foe Finn and Furple have come across, however, and, having already discovered that frogs hate radishes, they know they can be useful weapons.
But this boss frog is 1000 times more terrifying, with a motion sensor and revenge on his mind. Finn has to find a way to slow him down while Furple tries to reach the radish bomb that will stun the boss into submission. Finn is then the one who has to deal the final blow.
(Our demo will feature this particular boss fight, so keep an eye out for it).
Tell us about the sounds/soundtrack of the game. Does the music/sound vary amongst the different biomes/environments?
The soundtrack is an important part of River Tails, and we are really excited about its potential.
Composer Leonardo Mazzella will be creating original music and sounds for each level, working closely with us to convey the atmosphere of a particular environment and the emotional states of Finn and Furple.
Travelling along the river, the players will also go through different times of day and even different seasons, and the music will reflect and enhance each of these.
There will be moments of drama and action, of course, but overall the soundtrack is intended to increase the mindful experience that is this river journey.
You have a Kickstarter planned for November of this year. What are your main goals for your funding campaign? Can you share 1 or 2 of the special (tier level) rewards you have planned for those who donate?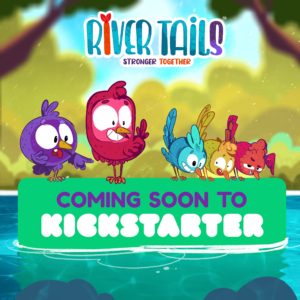 Yes, November 2021 is a date for your calendars!
Our Kickstarter campaign is a crucial step in the development of the game, as it will allow us to raise the funds for River Tails to reach its potential.
We also hope that it will get people excited for the release of the game in 2022. Any support people can give, whether (it be) financial or just by liking and sharing (our game/campaign) on social media, is appreciated.
But supporters won't just be getting our gratitude!
Here are two examples of the special rewards backers will be able to access:
The chance to work with us to create customized skins so they can play as a uniquely personalized cat or fish.
A beautifully produced artbook showing all the characters and environments (as well as previously unseen sketches to give an insight into the development process).
We don't want to give too much else away, but we are also talking about producing very limited-edition figurines/models of Finn and Furple (which we are also psyched about)!
What platforms do you have planned for the game?
The game will initially release on PC. Nintendo Switch porting is our next aim, as we think this platform is perfect for the style and tone of River Tails.
When will the game release? Will you be offering a physical version?
River Tails is set to release next summer (the exact date is still TBD). We will consider offering a physical version if there is an appetite for it.
Thanks so much for the interview. Good luck on your Kickstarter campaign. We look forward to the release of River Tails: Stronger Together, next year!
If you'd like to donate to RTST, be sure to visit the game's Kickstarter page & sign-up to be notified when the campaign launches in November.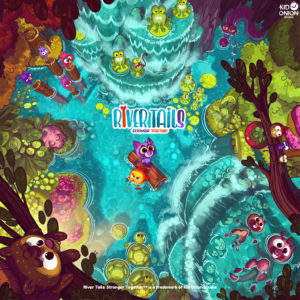 Read more about RTST on the title's official website.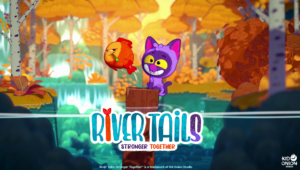 Follow RTST on Instagram.
Source: hitsicily.com (pic)