Mark your calendar and set that alarm for the second open beta of the extremely fun and very challenging Switch title, Ninjala, is coming this Sunday.
Participate in Battle Royale style matches (w/ up to 8 players)
Customize your character with a variety of cool avatar items
Defeat opponents, obtain items, & destroy drones to earn points
Earn extra points using stylish finishing techniques
Craft an assortment of weapons
Use Ninja-Gum to toss at foes
The Ninja with the most points at the end of each round wins!
Ninjala will be available in open beta (for residents of NA) on Sunday, May 31st from 12pm PST/3pm EST until 9:59pm PST/12:59am EST(6/1). (Connect here to find out the date/times for other regions).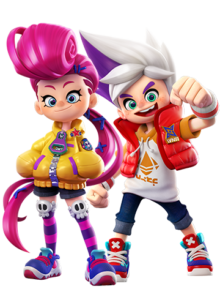 Ninjala is scheduled to release June 24th as a free to play, Nintendo Switch exclusive title.
Read more about Ninjala & watch a trailer for the game, here.
Keep up with the latest news about the title via Facebook and Twitter.
Source: GungHo Online Entertainment