Life lessons can be tough, but they can also be motivational. That's the case with developer, Berry, who's working on his very first visual novel, I'm Oh So Busy…A Week with Yoshimi. The upcoming tale of a young woman trying to establish her independence as she makes her way in the world for the first time, isn't just the plot of a game, but an inspired storyline that came from negative experiences in Berry's life.
We recently asked the young developer about his new game and some of the challenges of creating a title in the visual novel genre.
Here's what he had to say.
Tell us about yourself and how you got into the business of creating video games.
First of all, thank you Stephanie/Lee for giving me a platform to share my story and to share all of the progress that has been made so far on my first visual novel. We definitely need more independent operations like this one to share information and conduct journalism on games and game news from an actual gamer's perspective. I did some research on how this website got set up and it's really cool what you've got going on here.
But onto the question. . . my name is Berry. I'm a writer by trade and my area of interest started out in television writing with a focus on comedy. I've been writing and editing scripts since high school, but I never really had anything published or made into actual work. Everything I had and still have today are just scripts sitting on my desk top.
After getting into university, I attended a few film festivals in my area and got the opportunity to sit in on panels with some of the top emerging television writers in the entertainment world and actually got the chance to meet some of them. It was then and there that I decided to take myself a lot more seriously as a writer and really start honing my craft. The script for this upcoming project of mine that I'm going to tell you about is a part of that process.
But none of these experiences are what really got me into the business of making video games. As for what inspired me to get into the business, it was actually a long series of events that occurred from 2014 to this year.
Back in 2014, I had gone on a trip to Japan. I was there for about a month during July for a festival in the Yamaguchi Prefecture and got the chance to go all over the country; Yamaguchi, Hiroshima, Tokyo, places like that. While I was in Tokyo, I stopped by this small store that sold video games, and while I was looking around I noticed a section towards the back of the store that sold visual novels.
I had heard of this game genre from playing "Phoenix Wright" and stumbling across "Everlasting Summer" (the Russian version) back home. The section in this store, however, had about 5 bookshelves worth of visual novels stacked on top of each other. I had never played any of them. This was very eye-opening as to how expansive this market was for this type of game in Japan.
When I was on a train a few days later, I had a conversation with two guys from the festival I was attending; one of them from Korea and the other from Hong Kong. During our talk, I brought up the game store I had visited. I recall them telling me how big the market for visual novels was in Asia. They also told me that prior to the 2000s it was very rare to come across a visual novel that was translated to English since the market was basically non-existent in the West at the time.
Of course, now, if you go on Steam or Itch.io you can find visual novels all over the sites from various studios and publishers from around the world, in a variety of languages including English. In fact, the most popular visual novel on Steam right now is from somebody from the United States. (I think that right there is a testament as to how much the genre has grown since I went into that game store just 4 years ago).
As for the script for IOSB, I originally wrote it in November of 2017 as a spec script for a miniseries I had in mind. After finally completing the script however, I was faced with the fact that no one wanted to publish or even consider it for any projects. (Unfortunately, where I'm located the market for television production isn't very high).
So, after crafting the most ambitious project I'd ever created, I was left asking myself, "What do I do now?"
It was then that I remembered the huge (& growing) market for visual novels and decided to give it a try, giving myself some production experience and turning what I'd written into a real (& sellable) product. And, I haven't looked back since.
You're currently working on the visual novel, I'm Oh So Busy. . . A Week with Yoshimi. Tell us about your game and the inspiration behind it.
Oh, man…Where to start…Where to start….
"I'm Oh, So Busy…: A Week with Yoshimi" is a dark comedy/drama/slice-of-life visual novel that explores the life and times of 23-year-old Yoshimi Adelina Hertz who has just finished school and is starting the next chapter of her young life.
It combines a western style of writing with an anime-esque visual style (my artists are from Mexico and Russia). The game focuses on various themes such as mental health, purpose, meaning, desire, and trying to find footing in a world of modernity in the presence of a traditionalist upbringing.
Yoshimi goes into the world, guns-blazing, with nothing but her stuffed panda from childhood, her ferret, and a head full of big dreams. Unfortunately, she has a bad habit of getting in her own way, whether it be through self-doubt, or being maladjusted to the situation of being on her own.
The inspirations for the game include songs such as "Bedtime" by Gord Downie, "Miss Independent" by Ne-Yo, "My Song" by Labi Siffre, "Yoshimi Battles the Pink Robots" by The Flaming Lips, as well as a screen print I did for a class last year that dealt with the issue of growing up in an unfamiliar world.
The big moment for me that made me want to do something with this script happened when I was doing an internship abroad after having completed a semester on campus. It was fun and all, but a lot of the problems I faced back on campus stuck with me abroad.
I had problems socializing and opening up to people. I'd never really been on a date or gone on any big outings with others.  Everyone that I wanted to hang out with and network with brushed me off. Worst of all, I beat myself up about what was happening.
Things have certainly improved for me since working on this game, but I can never forget the dark times as my inspiration for wanting to make IOSB.
Tell us what you love about the visual novel genre.
I enjoy the medium and how much you can create with just some sprites, a story, some music, backgrounds, etc.
I also enjoy interacting with the online community that produces and plays these games and how much passion that these people have for what they do. It's truly inspiring.
What are some of the most important elements to a Visual Novel?
One of the most important elements for a visual novel has to be the story. I believe that you can have the best art and music in the world, but if the story is garbage, nothing else really matters.
Art for me would be a close second. This genre has the word 'visual' in the name, so this is a given.
You want to make sure that you have aesthetically pleasing artwork to show off and have something that can match the tone you're going for. People don't want to spend their hard-earned cash (or hours clicking through a story) to look at sub-par art. Of course, "art" is a definition that varies from person to person.
What are some of the biggest challenges of making a visual novel?
The first one is that it's almost impossible to organize and schedule things because my Guild is from all over the world. This means I have to deal with the issue of working with different time zones and sometimes staying up to 2am in the morning to talk to my artist in Russia about why the background isn't right. I treasure every single interaction, but I've only ever seen two of my very large cast/crew members face to face.
Another issue that comes up is that, despite writing the story and putting everything into the game engine, you can never really tell how fun or good a game is until you've played it all the way through. Since this game only takes about 4-5 hours to complete, I've been able to get feedback from many of my own team members. Although they have a lot of positive things to say, they certainly aren't shy when it comes to giving me advice and criticism, which I really appreciate.
The last challenge comes from that fact that technology is always changing. I have a great deal of respect for Tom Rothamel for creating the game engine that I'm using. I get updates for it all the time and every single update adds something new to work with. My knowledge of Python is a bit limited, however. And, even though I'm not shy when it comes to asking questions and have a wonderful team that helps me every step of the way, this is definitely a big challenge.
You currently held auditions to find voice actors for your game's speaking roles. Can you tell us about the process you went through to find people to voice your characters?
I held auditions for the voice roles about a month ago. The whole idea I had for this visual novel was to have Yoshimi be the only character on screen and have her interact with everyone else off camera, making the game very minimal and reinforcing the idea of the fourth wall on the player (a tactic that I took with me from my television writing).
I set up a casting call detailing all of the characters, the game's premise, and what I wanted from each character. Before I knew it, I had over 100 auditions to listen to within just the first week and over 300 auditions by the end of the casting call. It took me over a week to listen to everyone and make my decision.
After I got my team assembled, I set-up a discord server so I could keep track of every person who had lines to record. As the person in charge of the game, it was then my job to direct each actor/actress on what they needed to do.
It's been a surreal experience. The people are great. I've learned a lot about their industry and this one from our interactions.
What type of software are you using to develop IOSB? What type of engine are you using?
The game's engine is Ren'Py.
The voice files were cleaned up using Audacity and the sound effects were taken from SoundBible, YouTube, Soundsnap, and FreeSound.
The script was made using Final Draft.
All of the backgrounds were made using Photoshop and Blender. The sprites and objects were made using Photoshop and Paint Tool SIA.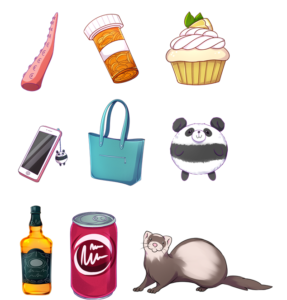 All of this is being made using my desktop that runs Windows 10.
Regarding the look of my main character, Yoshimi, I went through about 10 or so redesigns.
Here are some early concept designs I made using an anime-avatar maker app and the final draft for comparison.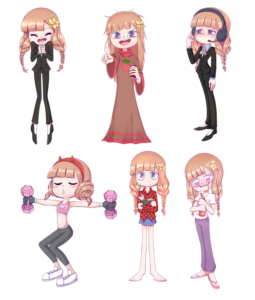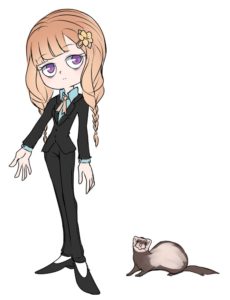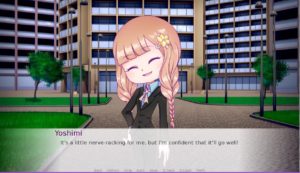 You mention on Twitter that you and several other people are working on IOSB. Tell us about your team and the part they're playing in the development of the game.
I'm very glad that you are bringing this up! I've assembled a supportive and talented team (known as The Berry Guild) to make this project possible.
Here's a current list of our cast and crew:
• Fuyu no Kawa – Backgrounds
• Erickiwi – Sprites/GUI
• D.S. – Script Editor
• Anastasia Lyle as Yoshimi
• Poppletron as Mr. Hertz
• Amanda "Panda" Parker as Mrs. Hertz
• Darrel Andre Humphrey as Stu Jeffery Bennet
• Amy Saville as Mrs. Bergen
• Michael "Speedlemon" Flaherty as Derek
• Jackmack as Hamad
• Mike Vallas as Vivaan
• Joshua Waters as Nathan Skies
• Kevin Couto as Gym Leader and Airport Worker
• CRAETION, idealism, furino, Axian, and CYGN – Music
As for myself, I'm personally taking the lead on story, programming, art direction, design, and some of the music production.
When will I'm Oh So Busy release? What platforms will it be playable on? Price point? 
The full version of 'I'm Oh, So Busy…' will be available for Itch.io and Steam.
I don't really have a set date for release yet, but I will tell you that all of the programming that needs to be done for the script is almost done, just to give you an idea of where I am. As soon as I get the assets completed and programmed in, that's when the full game will release.
For now, version 0.92 of IOSB can be downloaded to play via Itch.io for $4.99 (or $9.99 with DLC). (You can also pay more if you wish to give extra toward the development of the game).
Is there anything else you'd like us to know about yourself or your game?
I have an official website where I keep a development log and make updates on the game. You can connect to it here.
You can also find me at the following social media links:
Twitter (Personal)
Twitter (Studio)
Discord
Twitch
YouTube
You can listen to music tracks from the game on SoundCloud.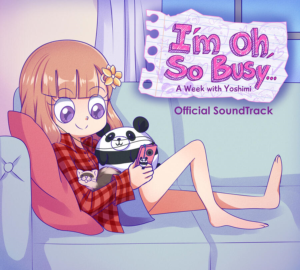 If anybody reading this wants to help out with production, make a donation, learn more about The Berry Guild, or collaborate, please shoot an email to [email protected] and I'll get back to you as soon as I can.
I'm considering doing a Kickstarter or making a Patreon page in the future. You can visit my website for that information.
For anyone considering playing IOSB, the game does contain a lot of themes that are not suitable for children or those who are easily offended. This includes suggestive themes, strong language, loud noises, crude humor, alcohol use/reference, and drug references. Please play at your own discretion.
Thank you all for your interest! I appreciate it. And, I wish the best for GameCuddle.com.
Thanks to you Berry for taking the time to answer our questions about your visual novel; "I'm Oh, So Busy. . . A Week with Yoshimi."