In November, we attended Super FamiCon in Greensboro, NC, for the very first time. This weekend-long event was a wonderful medley of competitive gameplay, inspiring panels, comedy acts, movies, authors, artists, vendors, cosplayers and podcasters. There was truly something for everyone.
The con officially kicked off on Friday night, with a viewing of "The Wizard" accompanied by live commentary from star, Luke Edwards. Unfortunately, we were unable to attend but did catch Mr. Edwards later in the weekend when he took part in a panel.
Speaking of panels, there were more offered here than we've ever seen, anywhere before. And, that was just fine with us because listening to special guests speak about their area of expertise is one of our favorite things to do.
The only downside was deciding on which presentations to attend. Once we did, we took two front row seats in Panel Hall A and, over the course of several hours on Saturday and Sunday, took it all in.
"The History of Hyrule"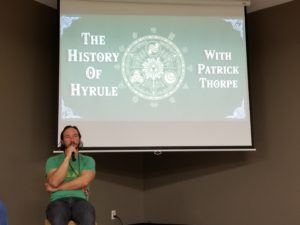 In an interview conducted by Tobias Mcnabb, Patrick Thorpe from Dark Horse Comics discussed the ins and outs of the publishing world and described what it was like to bring the "Legend of Zelda: Hyrule Historia" to the West.
"Limited Run Games & Why Physical Games are Important"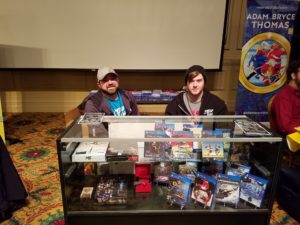 Ben Moore, CFO of Limited Run Games, talked about why his company exists and the importance of preserving the history of video games through physical copies. (Ben is pictured on the left).
Live Podcast: The Retronauts featuring Luke Edwards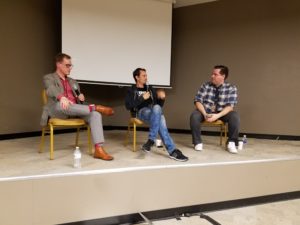 Jeremy Parish, co-host of the Retronauts podcast with special guest, Chris Sims, spoke to Luke Edwards about his role in the 80's classic, "The Wizard." They also discussed what Luke's experiences as an actor in Hollywood have been since.
During the panel, we learned that Mr. Edwards has 2 movies coming up; an acting role in "The Super" with Val Kilmer and a Netflix comedy, "Big Bear" that he helped produce.
"Video Games & Comics"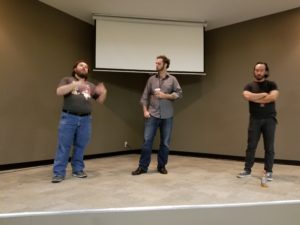 Patrick Thorpe (editor-Dark Horse Comics), Ian Flynn (writer-Sonic the Hedgehog), and Adam Bryce Thomas (artist-Sonic the Hedgehog) conducted an eye-opening look at what it takes to work in the world of comic books. Patrick spoke from the POV of a fulltime employed editor who works with independently contracted artists. Ian and Adam explained the fun and sometimes not so fun side of being independent artists and having a "work for hire" career.
By the end of the panel, we learned that there really is no one, clear path to breaking into the comic book industry. But, if someone is open to criticism, willing to hone their craft, and determined to not give up, he/she will most likely succeed.
"Super Mario Bros 2"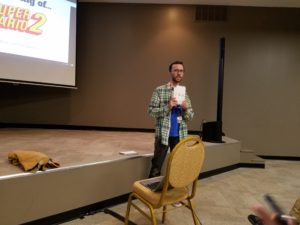 Jon Irwin, author of the book, Super Mario Bros. 2 (published by Boss Fight Books) led a light-hearted analysis of (arguably) one of the most interesting games in Nintendo's history. The hour was filled with Mr. Irwin's personal thoughts about the game, trivia, excerpts from his book, and information he'd gathered in his research, including some interesting insights from Gail Tilden, former Nintendo of America VP of brand management.
"The Retronauts Live: Night Trap"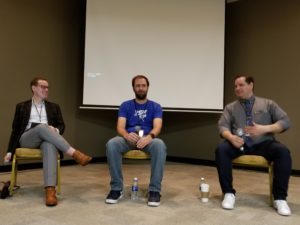 Jeremy Parrish from Retronauts and guest host, Chris Sims, returned for another live podcast. This time with the co-owner of Limited Run Games, Josh Fairhurst, to discuss the controversial cult classic, Night Trap. Josh was invited to speak about Night Trap because his company did a physical run of the game for PC and PS4 last year. That, plus his personal experience playing the game gave him a unique perspective about it's mechanics and concepts.
Although we attended a huge amount of panels on Saturday and Sunday, we did manage to find some time in between to check out the competitions downstairs. To say the atmosphere was intense, would be an understatement.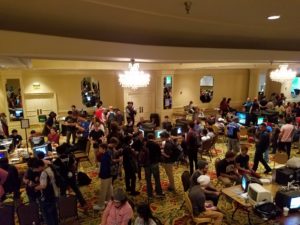 Tons of players filled the room, competing at levels from bronze to platinum. There was a wide variety of games for competitors to choose from such as Super Smash Bros Melee, Street Fighter 2, TMNT: Tournament Fighters, Super Mario Kart, Tekken 7, Injustice 2, just to name a few.
After nearly 2 days of panels and observing competitive gameplay, we finally made our way to the sales floor, late Sunday afternoon. The wide-open space was jam-packed with vendors selling toys, figures, jewelry, décor items, clothing, posters, video games, systems, accessories, and plushies.
Here's a small sampling of what we saw.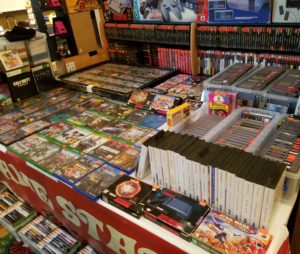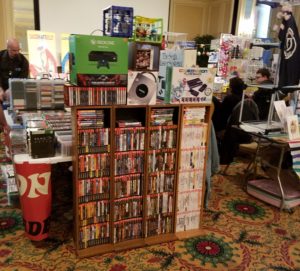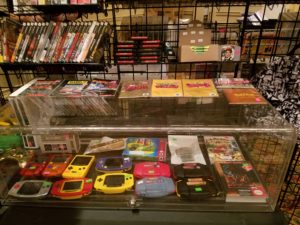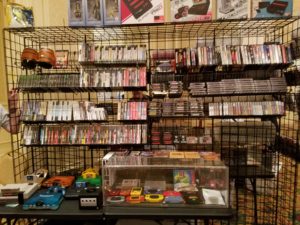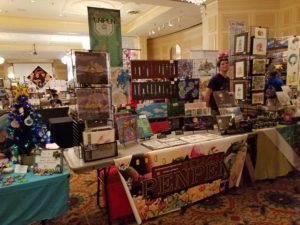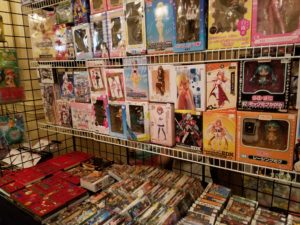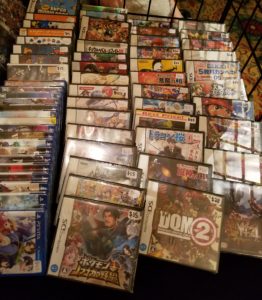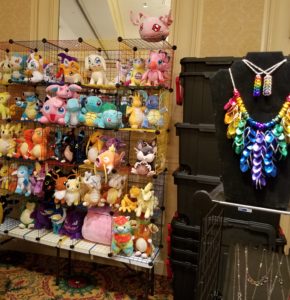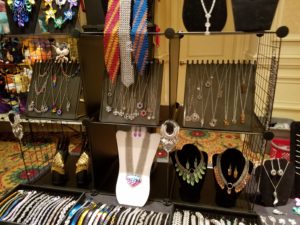 While on the sales floor, we had a chance to snag a PC copy of Night Trap from Limited Run Games, thanks to Ben Moore.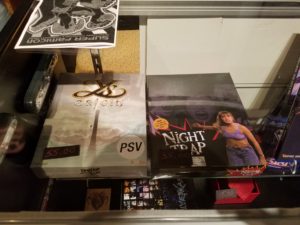 Mr. Moore also let us steal him away for a quick interview. We talked LRG business and how last year's ESRB rating requirement has greatly impacted their company.
In addition to meeting Ben, we were able to speak to Patrick Thorpe and Jon Irwin.
Mr. Thorpe talked to us about his love of rock climbing, plans he had while visiting NC, and additional background about "Hyrule Historia" that wasn't discussed in panel. We also talked about the importance of staying healthy, both physically and mentally. Because, with a job like his, you can easily burn out.
Before our time with Patrick came to an end, we requested a picture with him and the gorgeous prototype he brought to the event.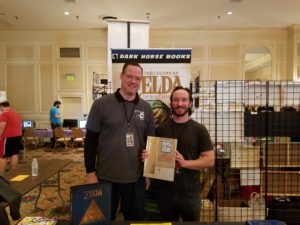 The prototype represents a stunning gold NES cartridge cover which will encase the "Legend of Zelda Encyclopedia," deluxe edition, releasing April 24th.
As we started to maneuver away from Patrick's booth, we took notice of one last thing.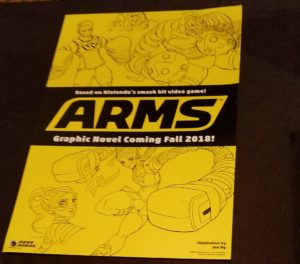 As you can see by the picture above, Dark Horse Comics is working on an ARMS graphic novel that will release this Fall.
Our last meet-up of the event was with Jon Irwin. While at his booth, we purchased a copy of his Super Mario Bros. 2 book and asked for his signature.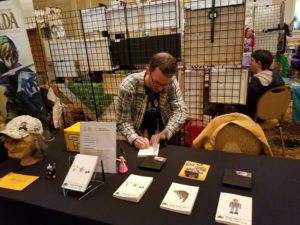 We had a wonderful discussion about Pokémon Go, how the opportunity to write his book came about, and his experiences as a full-time teacher.
After 2 non-stop days at Super FamiCon, we were ready to make our way back home.  As we did, we reflected on the terrific time we had at the event and decided there and then that we'd return in 2018.
If you'd like to know more about Super FamiCon, find the event on social media: