Crash Bandicoot fans counting down to the release of the N. Sane Trilogy on the Switch, XB1, and Steam, can now mark their calendars a little earlier. Instead of waiting until July 10th, players will be able to get their hands on the title on June 29th.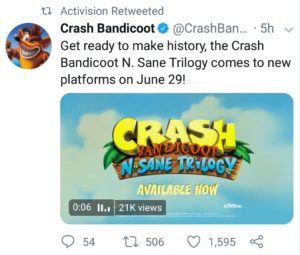 You can check out the slick, new trailer letting fans know about the date change, on the official Crash Bandicoot Twitter account.
The N. Sane trilogy is a remastered version of the original PlayStation games; Crash Bandicoot, Crash Bandicoot 2: Cortex Strikes Back, and Crash Bandicoot 3: Warped. It's currently available for pre-order at Amazon, GameStop, Wal-Mart, Best Buy, and Target for $39.99.
Source: Activision