Last week, some of the creative minds behind the Forza games took part in an E3 Coliseum interview. During the event, the team shared several details about the upcoming Forza Horizon 4 game. They discussed the return to the Horizon series, new gameplay features, and shared experiences for the on-line community.
Here's a few highlights of what they had to say.
Background
This time, the background for the game will be historic Britain. To keep with the authenticity of the environment, the developers have included British made cars and real-life locales.
A Return to Horizon
After completing Forza Horizon 3, the dev team at Playground Games started thinking immediately about what's next. They knew they had to go even bigger with the next iteration. They decided to start laying the groundwork for FH4 by tapping into the gaming habits and likes/dislikes of the enormous FH3 on-line community. The team then took what they'd learned and added in challenges and features that would give players a brand new experience.
A New Way to Play
A new feature to the series will be the changing of seasons. Britain is a country with well defined climactic changes throughout the year and the developers wanted to reflect that in the game. This is a very different take than the eternal Summer that fans are used to.
One of the main goals of the team, when it comes to their on-line games, is to immerse the player into a very realistic world. In FH4, the player will feel that time and seasons will continue to progress forward with or without their presence.
The addition of seasonal changes will affect the game in many ways, including visually, audibly, and in the way that cars will handle. It will also help mold and shape the experiences players have on-line.
On-line Community
Players in the on-line community will have shared experiences thanks to the climactic & daytime/nighttime changes.  Each week, new seasonally based challenges will open up for everyone to enjoy, simultaneously.
Those playing on-line will, at any time, be able to find others to join them. And, with the help of a new "quick chat" feature, it'll be easier than ever, for players to connect.
Solo Play
As incredible as the developers feel about the on-line aspect, they've made sure the solo experience is strong as well. Playing on your own may not be quite as spontaneous as being on-line, but it will still be quite enjoyable.
Forza Horizon 4 will release on October 2nd for Windows 10 and Xbox One. Three different editions will be available.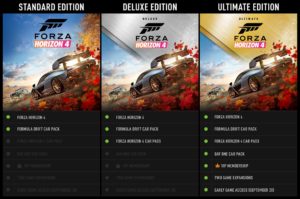 Pre-orders can be found on-line at Amazon, GameStop, Best Buy, Target, and Wal-Mart.
If you'd like to watch the fascinating, 1/2 hour, Forza panel in full, you can do so on the E3 Coliseum YouTube channel.
Sources: E3 Coliseum, Forza Horizon 4, Playground Games