If you've been waiting for the perfect time to purchase and play Insomniac's much lauded Spider-Man title, then this may be it as the company has announced a Game of the Year edition complete with the game and a voucher for all 3 chapters of the "City That Never Sleeps" DLC for the very affordable price of $39.99.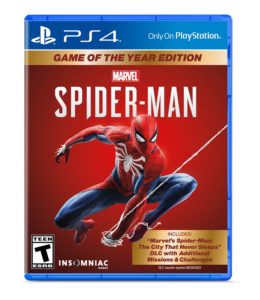 The GOTY edition has been released as of the company's announcement this week and is currently available in brick & mortar retailers as well as on-line at GameStop and Best Buy. (It will be released on Amazon on 9/4).
A digital version is also available on the PlayStation store.
Read more about the GOTY edition and see the announcement trailer on the PlayStation blog.
(This game is a PlayStation 4 exclusive).
Sources: Insomniac, PlayStation blog