Today, Microsoft introduced an inventive new accessory created to help low mobility gamers called the Xbox Adaptive Controller. 
The accessory, which has been in development for many years, originated when a Microsoft employee took notice of an organization that was customizing controllers for injured veterans. Since then, Microsoft has worked with many different charities as well as individuals with special requirements, in order to make the accessory what it is today.
The Xbox Adaptive Controller will offer several features including 2 big buttons that, with the help of the Xbox Accessories App, can be reprogrammed to function like any of a standard controller's button inputs.
The controller will also be compatible with several 3rd party accessories such as the PDP One-Handed Joystick, Logitech's Extreme 3D Pro Joystick, and Quadstick's Game Controller.
Below is a diagram showcasing the main features.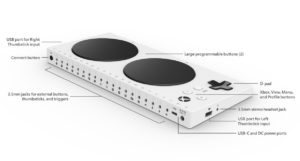 The Xbox Adaptive Controller will be sold exclusively through the Microsoft Store and retail for $99.99. The item is expected to release sometime later this year. It will most likely become available for pre-order sometime in the near future.
You can read more about the accessory's origin story on Microsoft Plugged In. See a full list of assistive technologies Microsoft has to offer on the Xbox website.
UPDATE: This item is now available for purchase on Xbox.com.
Source: Microsoft