It's a non-stop, event filled month for Pokémon GO players and the fun is just getting started as we go into the Valentine's Day celebration weekend, allowing for extra in-game bonuses, new monsters, and the ability to raid, hatch, and catch anything pink!
As a part of this celebration, the ever familiar, Lickitung will be available in raids during a 3-hour event on Saturday (2/15) equipped with the special move, Body Slam, & revealing, to a few, lucky players, a bright & shiny version of himself.
For those of you planning to take part in this special event, here's what you'll need to know about this normal type monster.
Basics
Normal Type
Generation I
Evolves into Lickilicky
Weakness to Fighting types
Moves:
Hardest Move to Beat: Lick/Hyper Beam
Best Moveset to Have: Lick/Body Slam
New Move: Body Slam
Although he'll still fall behind Lick/Body Slam Snorlax, this move will allow Lickitung to become much more powerful in PvP.
# of Trainers Needed: 
Strong, recommended counters – 2 players
Decent counters – 3-4 players
Counters: 
Lucario: Counter/Aura Sphere
Conkledur:
Counter/Dynamic Punch
Counter/Focus Blast
Machamp: Counter/Dynamic Punch
Breloom: Counter/Dynamic Punch
Perfect IV's: 
100% IV: 806CP
100% WB IV: 1008CP
Lickitung is boosted in Partly Cloudy weather.
Shiny: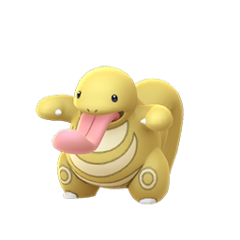 Lickitung will be available in Tier 4 raids from 2-5pm on Saturday, 2/15.
Good luck on your shiny hunt!
We'll see you out there!
NOTE:
If you're planning to raid in Wilkes County, NC, on Saturday, connect here to access a list of gyms for this area. (This list doesn't show every single gym, but does show most of the ones you can reasonably get to in a 3-hour time period).
Source: Niantic