Enjoy reminiscing about the days of feeding quarters to your favorite arcade game? Well, now you can experience that same jubilation at home with a new line-up of 5 classic gaming cabinets being released by Arcade 1UP.
Asteroids Cabinet
Games Included: Asteroids, Tempest, Major Havoc, & Lunar Lander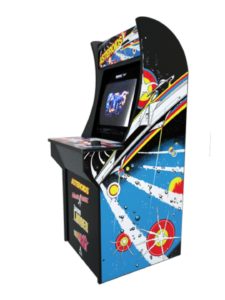 Final Fight Cabinet (Update: This cabinet has been delayed until Spring 2019)
Games Included: Final Fight, Ghosts 'N Goblins, 1944: The Loop Master, Strider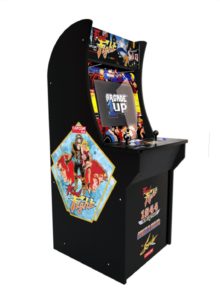 Champion Street Fighter II Edition Cabinet 
Games Included: Super Street Fighter II Turbo, Super Street Fighter II: The New Challengers, Street Fighter II Champion Edition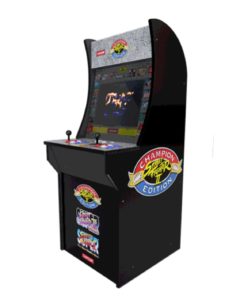 Rampage Cabinet
Games Included: Rampage, Gauntlet, Joust, Defender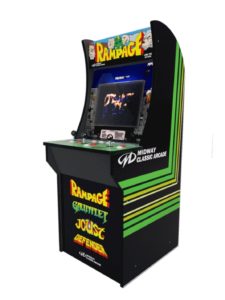 Centipede Cabinet
Games Included: Centipede, Crystal Castles, Missile Command, Millipede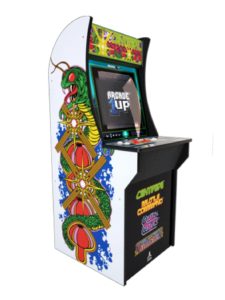 Product Specifications
– 3/4 scale cabinet
– 45.8″H x 23″D x 19″W
– About 63 lbs
– Authentic arcade joysticks, trackballs, buttons & sounds
– Adjustable volume
– 17″ LCD screen
– Official licensed cabinet artwork
The cabinets can be played from a seated or standing position. Some simple assembly will be required.
The line is scheduled for release on September 25th. Each cabinet will have a MSRP of $399.99. Alongside the cabinets, Arcade 1UP will be selling risers and stools to make things more comfortable when playing.
Four of the five cabinets are up for pre-order, on-line at GameStop & Wal-Mart. Currently, both retailers are selling the machines for $299.99 each, a $100 savings off the original MSRP. Customers should also be able to pre-purchase through their local GameStop store.
Bed, Bath, & Beyond will be a 3rd option to order the cabinets prior to release, however, their listing is not up just yet.
The cabinets will be purchasable in GameStop, Bed, Bath & Beyond, Wal-Mart, FYE, and select Target stores on 9/25. The company is also allowing independently owned retailers to carry their products, so you may find them in your favorite game store as well.
The riser and stool accessories will be available in Wal-Mart & Bed, Bath & Beyond stores upon launch. FYE will carry the stools. Each will be priced in the $40-50 range.
For more information, visit the official Arcade 1UP site.
Didn't see a cabinet you like? Stay tuned because the company has much more in the works for this year and next, including Galaga (which is already listed on Wal-Mart's site) and Pac-Man.
Are you an independent video game retailer who'd like to carry Arcade 1UP products? Here's who to contact.
Ernie Wong
Master Toys & Novelties, Inc.
2355 E. 37th Street
Los Angeles, CA 90058
Tel: (323) 582-8882 ext. 102
ernie@mastertoysinc.com
Source: Arcade 1UP