Nintendo's YouTube channel uploaded a new Trailer today for the upcoming Hyrule Warriors: Definitive Edition, highlighting a few of the 29 characters that will be available in the game. The showcasing included Link, Princess Zelda, Impa, Linkle, Lana, Volga, Wizzro, and Cia.
Check out the thrilling new game Trailer here.
Hyrule Warriors: Definitive Edition will release on May 18th exclusively on the Nintendo Switch.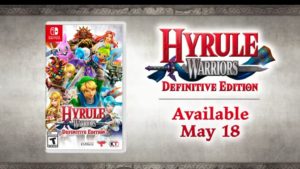 You can read more details about the game in our Nintendo Direct coverage, where it was originally announced. (You can find it near the end of the article).
Pre-Orders are currently available at the following retailers, on-line:
GameStop
Wal-Mart
Target
Best Buy
Amazon
Source: Nintendo