Publisher, SOEDESCO teased earlier in the week that a stoutly, boxed collector edition of D-Pad Studio's Owlboy is in the works. Today, the company disclosed a few details about this upcoming release, including quantities, extras, and when it's expected to hit retail stores. 
Here's a look at what's inside the box.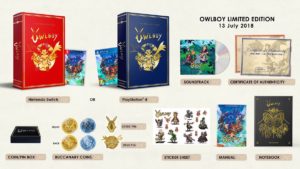 Game
Certificate of Authenticity with a LE number
Soundtrack
Notebook
Manual
2 pins
2 coins
Box for coins & pins
Sticker sheets
In the original communication from SOEDESCO, a quantity of 6000 was given as the amount for worldwide distribution. We now know that 6000 will be released for each platform.
Surprisingly, the publisher did not announce that an on-line pre-order would become available as is usually the case with special editions. Instead, it appears the item will be hitting retail stores on September 28th. Which retailers will be involved is still up in the air, along with amounts being distributed per region and retail price.
That's all we know for now. Keep it tuned to Game Cuddle for future updates.
Owlboy is currently available in digital format on the XB1, PS4, and Switch, at a retail of $24.99.
Pre-orders for standard physical editions, retailing at $29.99, are currently available at Amazon, GameStop, & Best Buy. These will release on May 29th.
Read more about Owlboy and see the game in action on the developer's website.
Sources: SOEDESCO, D-Pad Studio
UPDATES:
Play Asia currently has the PS4 Owlboy Collector Edition available for pre-order, for $71.99 plus shipping.
On 5/17, Amazon & GameStop had the items for sale very briefly, at a retail of $69.99. They are currently sold out.
The release date has been pushed from 8/31 to 9/28.