"The Indie Houses" initiative is the effort of 7 established publishers to create an environment conducive to sharing expertise, dialoguing about the industry, and spotlighting the unique indie developers/games each is working with, rather than focusing solely on the competitive nature of their business.
Now, several months after forming their alliance, the companies will officially kick-off their new initiative with a collaborative on-line event at the end of August.
Interested in watching? Check out event details below.
Event: "The Indie Houses" Direct
Date: August 31st
Time: 10am PST/1pm EST
How to Watch: Twitch, YouTube
Who's Involved?
What to Expect:
The on-line event will be an hour long presentation, featuring news & reveals from all 7 publishers.
If any titles during the event catch your eye, be sure to head over to the Steam Game Festival (8/31-9/7) where games highlighted during "The Indie Houses" direct will be featured for a full week, via demos, live broadcasts, special deals, and more.
Sign-up for "The Indie Houses" mailing list, here.
Keep up with the latest news from "TIH" initiative via Twitter.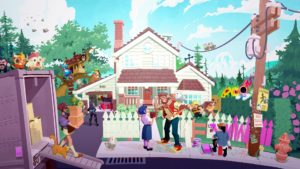 Sources: GamePress, Kathy Rain website, TIH twitter