A rousing adventure full of mystery, mischief, and monsters, based on the R.L. Stine Goosebumps series, is now available on the Nintendo Switch thanks to developer, Wayforward & publisher, GameMill Entertainment. 
Investigate your surroundings, puzzle out clues, and outsmart the evil Gnomes, prowling Werewolves, walking Scarecrows, and other ghastly creatures that have taken over your neighborhood.
Key Features Include:
– point & click gameplay
– an new, original storyline
– 22 monsters to battle
– puzzle solving
– face-off with Slappy the dummy
– 60 rooms to explore
-125 items to collect
The Switch version will also contain bonus characters and levels not offered in the original 2015 version released on the 3DS, XB1, XB360, PC, PS3, and PS4.
Goosebumps: The Game retails for $29.99 and is available now digitally through the Nintendo Switch eShop or physically at Play Asia and other participating retail stores.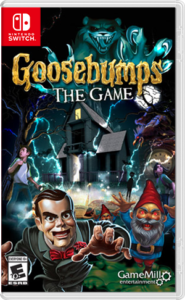 Watch a trailer for the game on the GameMill Entertainment YT channel.
The Goosebumps 2: Haunted Halloween movie will release in theaters this weekend. See a trailer for the movie, here.
Find more family friendly titles from GameMill Entertainment on their official website.
Sources: Play Asia, Nintendo, Sony