Mewtwo will soon be returning to Tier 5 gyms, this time bringing with him a new move and a shiny version. If you haven't ever acquired this powerful beast, would like to capture one with a new, powerful move, and/or are looking to add yet another terrific Pokémon to your shiny collection, this is an event not to be missed!
Mewtwo is weak to: 
Bug
Dark
Ghost
Psystrike Move: 
Although not a game changer, Psystrike will be an upgrade from Mewtwo's current best charge move; Psychic, allowing for a nice increase in damage per second. (Psychic – 16.55 vs. Psystrike – 20.91)
Hardest Move(s) to Beat: 
Focus Blast
Ice Beam
Counters:
If the game gives you Tyranitars in your line-up of fighters, you'll most likely be going against a move other than Focus Blast. If, however, no Tyranitars are included on the in-game team, get prepared for a Focus Blast battle.
Versus Focus Blast 
Origin Forme Giratina with Shadow Ball
Gengar with Shadow Ball
Mewtwo with Shadow Ball
Yanmega: Bug Bite/Bug Buzz
Pinsir with X-Scissor
Versus Other Moves
Origin Forme Giratina with Shadow Ball
Gengar with Shadow Ball
Tyranitar: Bite/Crunch
Mewtwo with Shadow Ball
Weavile: Feint Attack/Foul Play
Houndoom: Snarl/Foul Play
Perfect IV's:
100% IV:  2387CP
100% WB IV:  2984CP
Mewtwo is boosted in Windy weather.
# of Trainers Needed:
Mewtwo can be defeated by 4 Trainers if each has a team of 6 counters powered up to Level 35 (8,000 Stardust). Otherwise, 5-6 players will be required.
Shiny Mewtwo: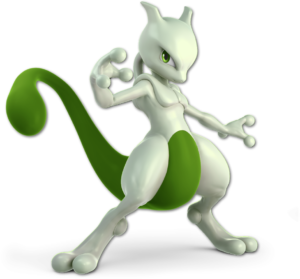 Mewtwo will reappear on September 16th and be available until September 23rd.
Good luck to everyone on their shiny hunt!
Sources: Niantic, Shiny Mewtwo pic from AuraShaman on Deviant Art
Article Editor/Co-Author: Stephanie Sanderson