On-line retailer, Play Asia, teased last month that they'd be selling an exclusive line-up of Nintendo Switch titles on their site. Yesterday, the company announced the first title release in this collection.

The game is Dimension Drive, an intense, indie, arcade shoot 'em from developer, 2Awesome Studio, that allows for 1 to 2 players to fight across and switch between two battlefields, to dodge waves of bullets, reach secret areas, and surprise enemies.
The standard edition will retail for $24.99. Pre-orders will be open during the period of June 14th through June 30th.
The collectible box will retail for $34.99. Only 3000 copies will be produced. Pre-orders will be available on June 14th, while supplies last.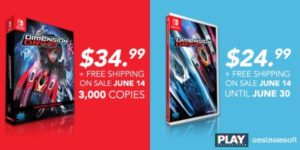 If you'd like to know more about the game, you can find additional information & a trailer on the official Dimension Drive website. You can find out more about the developer on the 2Awesome Studio website.
The game is currently available on Steam and the Switch eShop for $12.99.
Source: Play-Asia